Spilling coffee is never fun, but for German designer Stefan Kuhnigk it turned out to be a blessing in disguise. He turned that first coffee stain into a small monster and has been creating Coffee Monsters ever since.
Stefan recalls looking at the stain his cup of dark espresso left on a piece of paper and it looking back at him as if saying "Draw me, draw me, draw meeee!". So he did just that, and create his very first Coffee Monster. The next day, he thought back on this little accident that had challenged him to get creative, and decided he could replicate the coffee spill every day as an exercise in creativity.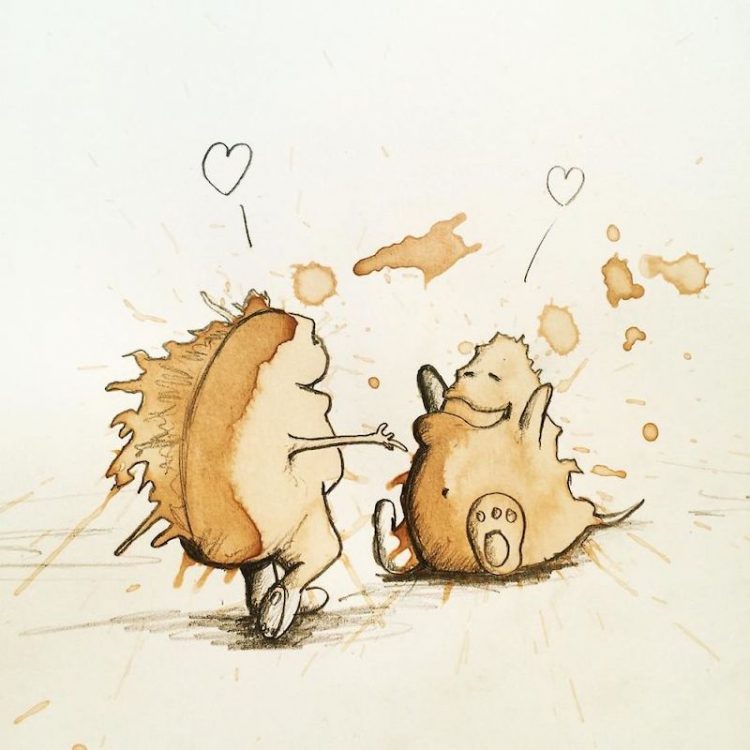 Photo: Stefan Kuhnigk
When Kuhnigk started using a spoon to spill coffee on sheets of paper every day, his designer colleagues looked at him like he was nuts, but they didn't know about the artworks that lay hidden in those random coffee stains.
View this post on Instagram
Stefan Kuhnigk has created almost 600 adorable Coffee Monsters, as well as a charming back story for each one of them. They may be monsters, but they're the cute kind you'd expect to find in a children's book. They tend to have a smile on their faces, because they have a very important role – to make people happy.
View this post on Instagram
The creative process behind creating Coffee Monsters is pretty straightforward. Stefan spills some brew on a sheet of paper, lets it dry for 4 to 6 hours, then uses a pencil to draw around the random shapes.
View this post on Instagram
"My favorite moment up until now was, when someone wrote me, that the monsters make her happy everyday," Stefan Kuhnigk  wrote on Bored Panda. "This is so cheerful and because of messages like that I do it again and again. It never gets old for me, because a spill is never the same."
View this post on Instagram
Apart from sharing his Coffee Monsters on his social media pages, Stefan also published a Coffee Monster book featuring his best creations. You can find it on Amazon.
View this post on Instagram
View this post on Instagram
View this post on Instagram