Detroit agate, also known as fordite, looks like a precious stone that has formed in the Earth's crust over millions of years, but it's actually a man-made material dating back only a few decades.
Looking very much like a natural agate, the sought after Detroit agate actually consists of layers upon layers of enamel paint from old car painting racks in Motor City factories. Trapped in these layers of paint are decades of automotive history and unique, vibrant colors that we may never see on cars again. For example, the earliest pieces of fordite mainly consist of blacks and browns, the most popular automotive colors of the time, others have gray primer layers between the colorful ones, and some have shiny flakes of metallic paint. Because the hand-painting process has long been replaced by an automated one, Detroit agate is no longer produced, so the pieces that do exist are actually prized as actual jewels especially by automotive history buffs.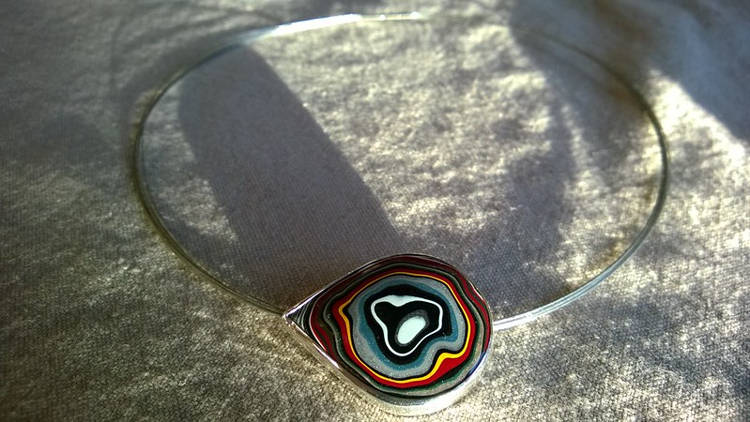 Photo: Rhonda/Flickr
Hand spraying was phazed out of Detroit car plants in the 1970's, and it was slowly replaced with robots and electrostatic painting processes. Fordite production died with it, so the only chunks or polished pieces around to day date back to the old days, making them eve more valuable to collectors. In fact, for most of them the fordite's history and origin as a byproduct of the assembly line is more important than its beauty.
View this post on Instagram
Fordite formed as overspray paint deposits on car assembly lines and built up into these large globs that had to be removed at certain periods of time, because they interfered with the painting process. Some workers recognized their aesthetic value back then and kept large chunks as souvenirs, but most of this stuff was simply thrown away as junk.
View this post on Instagram
"Most of the good stuff is already buried in landfills," Cindy Dempsey, an independent jewelry creator, told Atlas Obscura.
View this post on Instagram
Essentially paint slag baked over and over again in the ovens of Detroit, fordite is hard enough to be cut and polished into fashionable pieces of jewelry that are sometimes worth almost as much as real semi-precious stones. The finite quantity of Detroit agate and its historical value to automotive history enthusiasts makes the man-made material that much more valuable.
View this post on Instagram
View this post on Instagram
View this post on Instagram
View this post on Instagram
View this post on Instagram