Arjan Boeve, aka 'Above', is a talented artist credited for bringing the old craft of stained glass-making into the 21st century by incorporating modern themes that the general public resonates with.
Stained glass is usually associated with religion, particularly with old churches and cathedrals, but through his project, Stained-Glass Geek, Dutch artist Arjan Boeve is showing younger generations that stained glass has a place in the modern world. Boeve's stained glass stands out both because of its exquisite quality and crisp lines, but also because of its modern themes, including iconic video game, cartoon and anime characters like Mickey Mouse, Super Mario or Dragon Ball's Vegeta.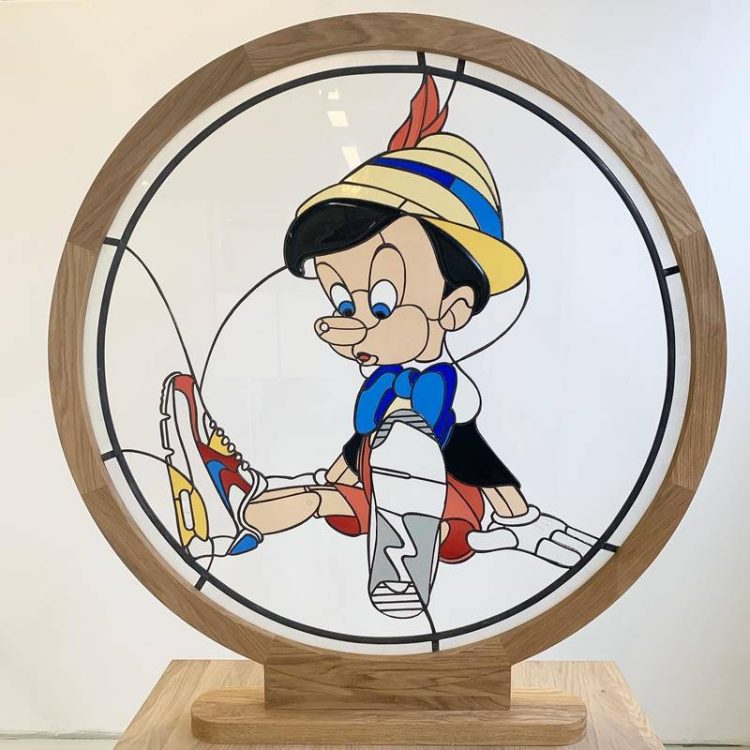 Photo: Arjan Boeve
"The people who like video games and comics are educating your children at school. They might be your doctor or your dentist. They are the people buying their first, second or third house right now. I think that will also shape the art that's being bought and the imagery that's looked for," Arjan Boeve said. So there's a new world being shaped right now and I want stained glass to be part of it."
View this post on Instagram
Above starts each project by creating the glass itself by fusing it with metallic salts – including gold and silver chloride – at about 1,000 degrees Celsius, which permanently changes its colour. The glass features visible imperfections, like bubbles, variations in color and visible bumps, but they are all part of the charm of stained glass.
View this post on Instagram
Next, the talented artist sketches his designs digitally before cutting and shaping each piece of glass by hand. He traces the lines on the glass, and then takes a knife and snaps the needed pieces. Finally, he assembles his designs by soldering them with lead or copper foil.
View this post on Instagram
Although Boeve describes his craft as "fun", he admits that it's also quite dangerous. Handling the glass by hand, the risk of accidents is very high, and he says his hands are sliced open on a daily basis. Also, because of working with lead, he has his blood tested for lead poisoning every year.
View this post on Instagram
Arjan Boeve's main goal is to create stained glass that will inspire a new generation to take up the craft, keep it alive and hopefully improve on it in this fast-changing world.
View this post on Instagram
"From day one when I was back in Holland I immediately started educating people," the artist told The National. "I felt – I still feel – like I really need to pave the way for a new generation of creative people to arise and to get interested in this craft. I think this is 50 per cent of the reason why I chose to work with pop images, as well, because I wanted to appeal to my generation and to combine their interests with stained glass.I really think that's how it will survive."
Boeve's geeky stained glass masterpieces can sell for anywhere between a few hundred euros up to tens of thousands of euros.
For more on Arjan Boeve's work, check out his official website, and for more geek-inspired stained glass art, keep an eye on his Instagram.