German artist Philipp Weber specializes in hyper-realistic paintings of female models which can hardly be distinguished from high-resolution photographs at first glance.
Born in 1974 in Rostock, Germany, Philipp Weber showed an inclination for the arts when he was only three-years-old, and continued to impress both his parents and his art teachers as he grew. Weber graduated from the prestigious University of Arts in Berlin in 2002 with top grades, and has been wowing art critics with his awe-inspiring hyper-realistic paintings. Looking at how incredibly detailed his artworks can be, it's easy to see why some of them can take the artist months, sometimes even years to complete.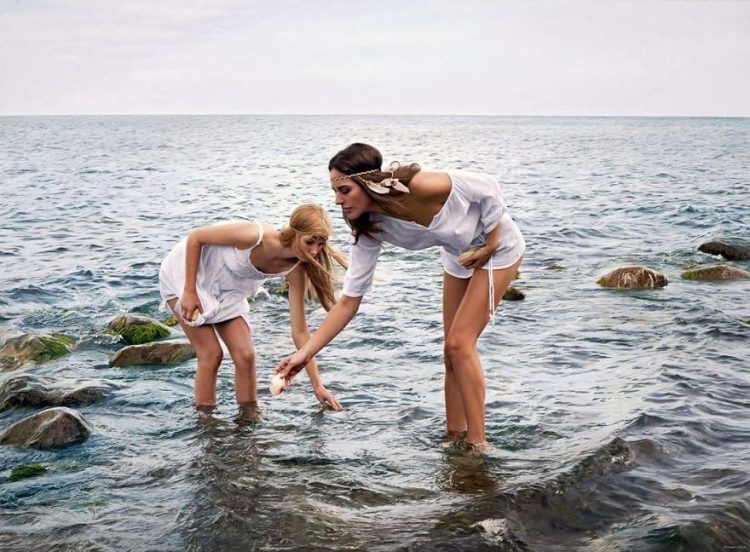 Photo: Instagram/Philipp Weber
"Some people can't believe, that everything really is painted. They think, I've overpainted a photo with my oil colours. It's about the second level. It's about what lies beneath the uncertain surface," Weber told Caters News. "Hyper-realism for me is not only the maximum of details, but much more the maximum of feeling."
But while Philipp Weber doesn't paint over photographs, his artistic process does involve the use of photos. He starts out by sketching the scenes he plans to paint, then plans out a professional shoot that involves professional models, photographers and makeup artists, and finally paints an almost perfect replica using oil paints.
"The level of details of the old masters has always fascinated me," Webers said. "As well as the first generation of photorealists like Chuck Close. They are my role models and the inspiration to work this way."
Philipp Weber's artworks consist of layers upon layers of color, which he adds until he achieves the desired level of detail; It sometimes takes him year until he is completely satisfied with his work. Whether it's a simple strand of hair or, a contour her and there, the artist doesn't rest until his paintings are perfect. And it really shows.
Weber 's artworks can sell for upwards of $20,000 apiece, and judging by the level of realism he is able to achieve with a paintbrush, I'd say they are definitely worth it. If you can get your hands on one of his works, that is, as they are sought after by collectors.
View this post on Instagram