A Japanese skeleton enthusiast recently got his five minutes of online fame after posting photos of an impressive chicken skeleton he managed to put together out of the bones of a rotisserie chicken he ate.
Mr. Kudo, a Japanese man who dreams of transforming his home into a museum-of-sorts filled with all sorts of animal skeletons, managed to wow millions of Twitter users with his latest creation – an almost perfect chicken skeleton assembled out of the bones of a rotisserie he himself gorged on. On April 28th, he took to Twitter to post before and after photos of a roasted chicken he had bought at a discount from a supermarket in Akita, Kanagawa Prefecture, a few weeks prior. The preserved chicken skeleton, showcased on the same disposable platter that came with the roasted dish, blew everyone away, and for good reason, it looked better than the specimens you see in most museums.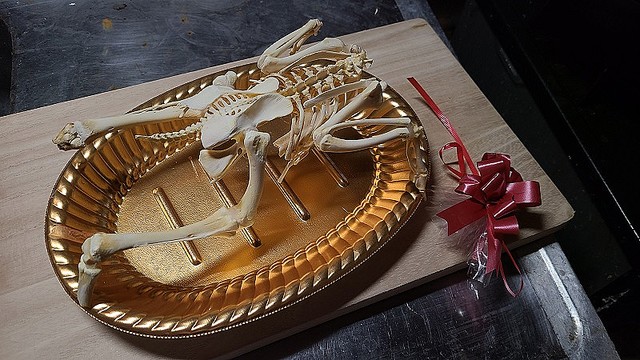 Photo: @sakanakudo/Twitter
"I ate too cleanly by mistake," Mr. Kudo captioned the photos. The following day, after seeing that his photos had gone viral, the amateur artist went into details about the process.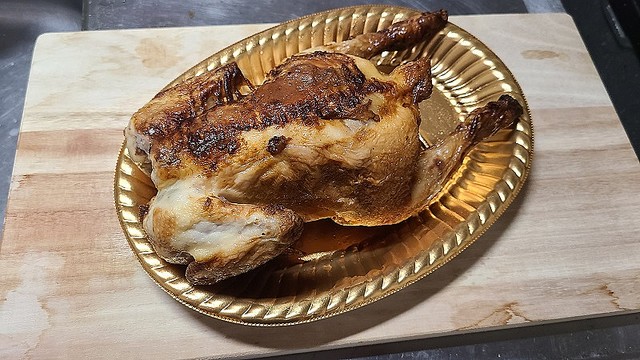 Photo: @sakanakudo/Twitter
After eating the chicken, I removed the meat leftovers from the bones, dried them, bleached them, and then put them together," Mr. Kudo said, adding that he had accidentally eaten some of the smaller bones, so his creation wasn't perfect. Apparently, the entire process took several weeks, as the drying of the bones alone required about 14 days.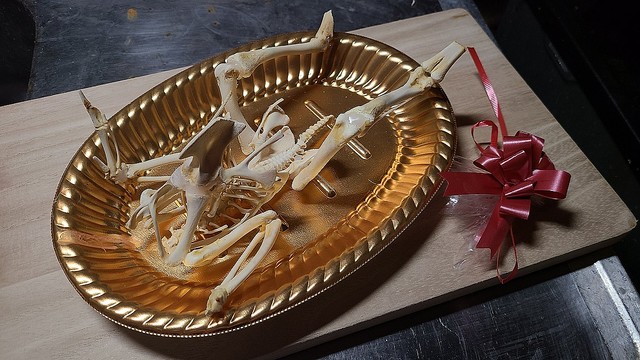 Photo: @sakanakudo/Twitter
This quasi-perfect chicken skeleton is just one of Mr. Kudo's impressive creations. He also recreated the heads of several fish, a whole frog and even a large bird.
Kudo's post received more than 70,000 likes and was featured in several online magazines, including Otaku Keizai Shimbun and Livedoor.
"How to eat like Tom and Jerry," one person commented on the post.