Today, Dan Drake, aka 'Dancakes', is known as one of the world's most talented pancake artists, but few people know that he never planned, nor trained for this career. He was just a guy flipping fried foods at a diner to make ends meet, but his artistic talent catapulted him to international fame.
Dan had always had a talent for drawing, but never really considered turning it into a career. In high-school, he would doodle and draw comics in the back of the classroom out of boredom, and dreamed of becoming a renowned musician with his band, Psychedelic Psycho Nuts. While trying to get his musical career off the ground, Drake got a job as a fry cook at the Courtesy Diner, in his home city of St. Louis. Because he needed to earn his chops, he was placed on the slow shifts, which resulted in few tips but a lot of time on his hands. It was on one of these shifts that he got his feet wet in the world of pancake art.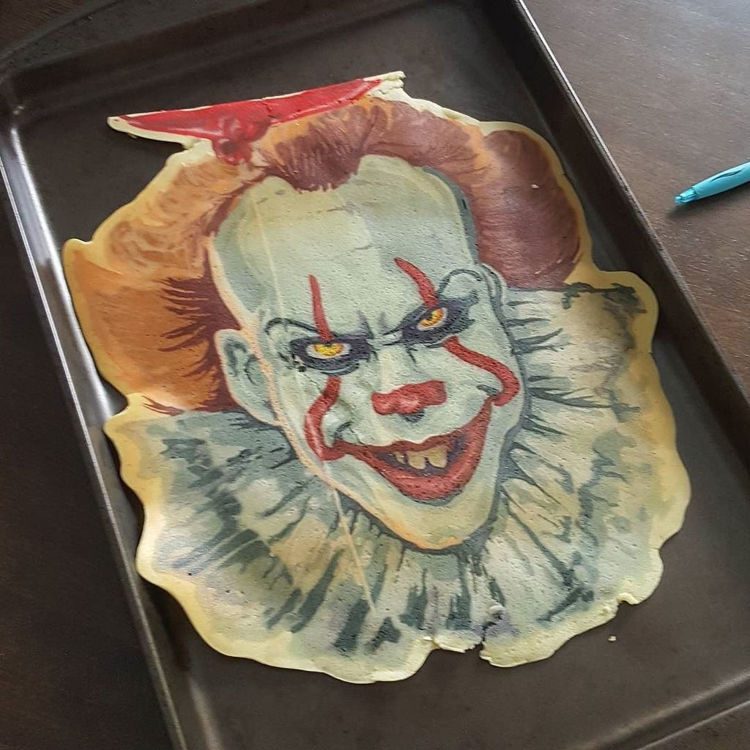 Photo: Dancakes/Twitter
A work colleague had told Drake that making funny mouse ear shapes on pancakes sometimes made people leave bigger tips, and one day, he decided to test the theory on a customer who seemed to be having a bad day. He made the best smiley face pancake he could, and the man's demeanor changed instantly. Dan got a $15 tip for his first artistic pancake, but it was enough to inspire him to hone his skills.
View this post on Instagram
The young fry cook spent the next few months after that practicing pancake art, and eventually developed somewhat of a following at Courtesy Diner. One night, he made a mushroom-shaped pancaked inspired by the Super Mario video game for a friend, and the guy was so impressed that he took a photo and posted it online. Seven months later, his mushroom pancake was on the front page of social news sharing site, Reddit, and several online media giants, like Buzzfeed, posted it as well. Next thing he knew, Dan was being flown to New York to make pancake portraits of Dan Roker and Matt Lauer, live on The Today Show.
View this post on Instagram
His career quickly blew up after that, and he was able to leave the Courtesy Diner to make bespoke pancakes for private parties and on commission. That was five years ago, and a lot has happened since then. Dan started his own pancake art company, Dancakes, and hired several other talented pancake artists to keep up with demand. He's been traveling the world showing off his edible creations at various events, making pancakes with celebrities like Katie Perry, and, most importantly, taking his pancake art to a whole new level.
View this post on Instagram
A recent Instagram post of two pancake portraits of Elsa, from the animated film Frozen, one from 2014 and one done this year, shows just how much Dancakes' skills have evolved. He went from making cute pancakes that somewhat resembled their inspiration to creating incredibly detailed edible artworks that look painted onto the pancake.
View this post on Instagram
Although Dan admits that it took a bit of time for him to get used to the idea that pancake art, not music, was his road to success, he now considers it a blessing and says he has the coolest job in the world.
View this post on Instagram
"To have something like this, that I didn't actively choose, that just kind of like randomly happened to me, and to have this be my path to success, I don't know, I think there's something kind of profound about it," the young artist told St. Louis Public Radio.
Apart from running his own pancake art company, Dancakes is also actively working on taking his career to the next level. He recently launched a kit that allows people to make their own artistic pancakes at home, and is working with a Chicago-based scientist to create a special pancake batter that would allow for his artworks to be preserved for a long time.
To celebrate IHOP's National Pancake Day, on March 12, Marvel asked Dancakes to make some of his signature pancakes inspired by the X-Men. Check out the amazing results in the video below:
To feast your eyes on more of Dancakes amazing pancake art,check out his Instagram and Facebook pages. Also visit his YouTube channel to see how the magic happens.