Hong Kong-based artist Alfred Chen takes a single thread of yarn over 5,000 meters long and weaves it around a frame made up of around 300 metal nails to create stunningly realistic celebrity portraits.
Chen starts the creative process by selecting a digital image he wants to recreate. He then changes the color version to grayscale, adjusting the brightness and contrast to better expose the shadows and highlights he will have to recreate with thread. Finally, he relies on an algorithm that tells him exactly how to weave a single thread around the 300 metal nails in order to recreate the picture in real life. Then the real work begins.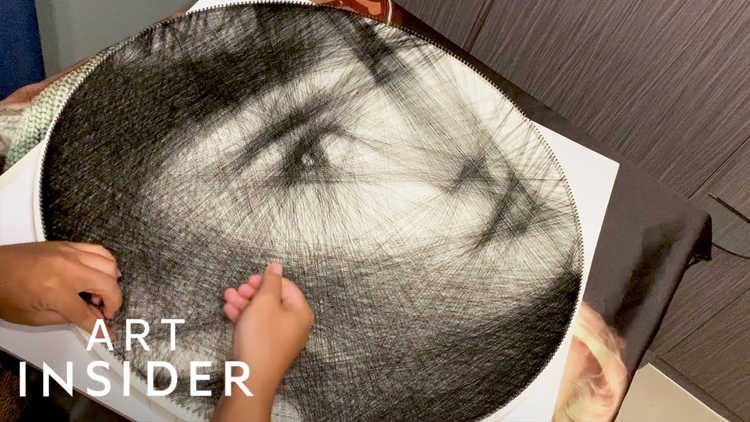 Photo: Art Insider
After mapping out his thread portrait, Alfred Chen hammers the 300 metal nails into a wooden frame, making sure they are a very specific distance apart. Then comes the hard part, wrapping the 5,000-meter-long thread around the nails, patiently crisscrossing to create the illusion of shadow. He needs to be very careful, because if the thread breaks, he has to start over.
View this post on Instagram
"You cannot imagine that how many times I have experienced the issue of those pesky threads breaking when I first started making these portraits," the talented artist told Insider Magazine. "Actually, the thread that I'm using right now is from Spain, and it is made of polymer and relatively stronger than others, but it's still so thin and fragile. So, I have to stay completely focused during the entire process, and I'm getting better now."
View this post on Instagram
Because a single wrong weave can ruin an entire portrait, Alfred Cheng can spend up to three weeks hunched over one of his artworks, correcting any mistakes until it turns out just the way he wants it – a complex web of thread, which seen from a distance reveals the image he set out to recreate.
View this post on Instagram
Chen is not the first artist to take up thread art – in the past we've featured the works of Sašo Krajnc as well – but he taught himself the whole process and his works are definitely some of the best in the world.
View this post on Instagram
View this post on Instagram
View this post on Instagram