Norwegian cake artist Caroline Eriksson recently went viral for an awe-inspiring sculpture of Groot made exclusively out of gingerbread, but few people know that this is only the latest of her now traditional Christmas gingerbread masterpieces.
Everything started just before Christmas of 2013, when Caroline Eriksson showed off her edible Optimus Prime, a complex, edible sculpture made up of between 700 and 800 individual pieces of gingerbread. Photos of her very first gingerbread wonder got a lot attention on social media, particularly on Reddit, and even won Eriksson the grand prize of 40,000 NOK ($6,500) in a gingerbread contest. Since then, she has been dedicating all her free time in the two months leading up to Christmas every year to designing, baking and putting together the most amazing gingerbread sculptures.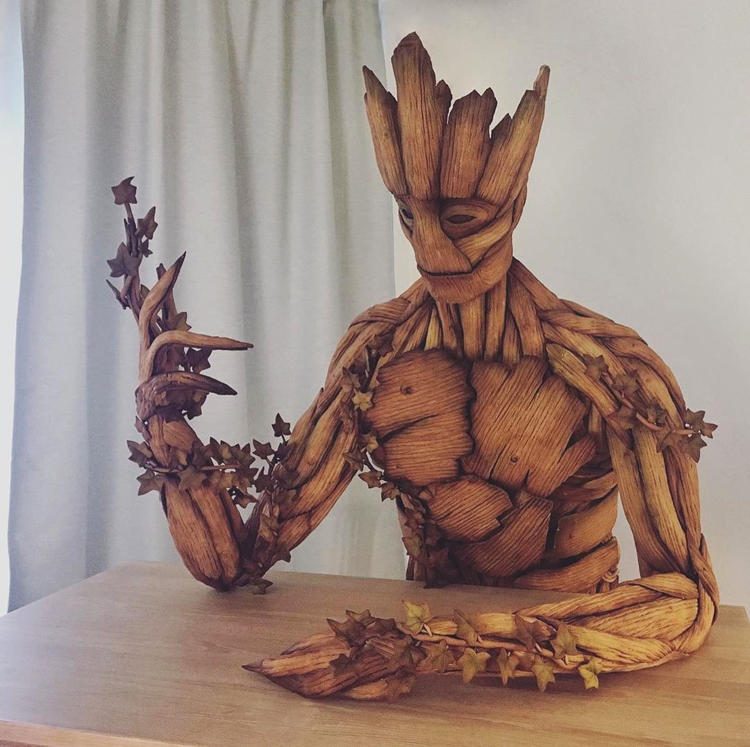 Photo: Caroline Eriksson/Instagram
Even though her gingerbread Optimus Prime was cool, you can definitely see the evolution in Caroline Eriksson's skill over the year, especially when comparing her original creation to thhis year's ultra-realistic Groot model, or last year's detailed xenomorph. She has also fine tuned the making-of process as well, starting off with a metal skeleton for her creations, and then using a custom recipe to create gingerbread pieces that she can mold and piece together as she likes.
View this post on Instagram
"It's an iron structure inside with sculptured gingerbread on top: …I made an inner skeleton with correct proportions, and then drew pieces/ designs to fit on top of it …" the artist wrote in an Instagram post. "I've altered the usual recipe a bit to make it stronger – so I wouldn't recommend for eating, but I'm using twice the amount of syrup, and no baking powder. It makes the gingerbread harder and gives it a smoother surface! …There's a whole lot of melted sugar to keep it together!"
View this post on Instagram
For the curved areas, Eriksson says the pieces are soft and malleable if applied fresh out the oven, but even so, getting them to turn out just right requires serious skill and patience. It's no wonder that every year she manages to go viral with new exciting gingerbread projects.
View this post on Instagram
Can't wait to see what she comes up with next year. To find out, and also see what elese she's up to the rest of the year, follow Caroline Eriksson on Instagram.
View this post on Instagram
View this post on Instagram
View this post on Instagram