Be honest, looking at this hyper-realistic drawing of a squid, could you ever tell it apart from a real-life cephalopod? Most people couldn't which is why Japanese illustrator Yuuki Tokuda's artwork has been getting so much attention on social media.
Yuuki Tokuda is a talented illustrator whose cartoony characters have been immortalized in books and magazines. But the Japanese artist has recently been enjoying praise for his hyper-realistic drawings as well, particularly that of a mind-blowingly realistic squid done with a pen, pencil, airbrush and a copic marker. Looking at his masterpiece and the level of detail he has been able to achieve with such a limited arsenal of tools, it's easy to see why Tokuda's pictures have been liked and shared by hundreds of thousands of people on Twitter alone.
Photo: Yuuki Tokuda/Twitter
The talented illustrator documented the laborious process behind his insane squid drawing on a Japanese blog. This was apparently his second attempt at nailing the realistic marine animal, two years after repeatedly failing. This time around, he went about doing things a bit differently. For starters, he started by drawing a simple outline of the squid and then using an airbrush to paint its shadow. It was his first time using an airbrush so he had a couple of failed attempts.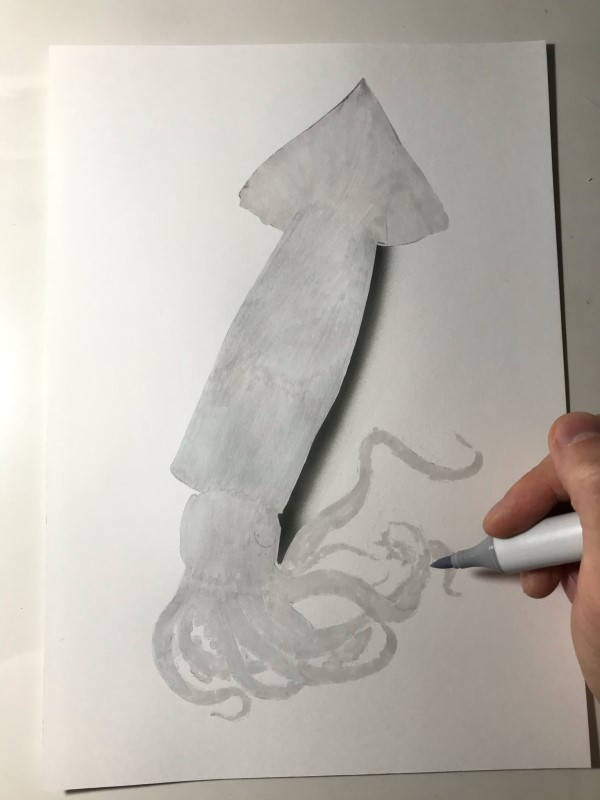 Photo: Yuuki Tokuda/Twitter
He then drew the base layer of the squid using white and grey copic markers, before relying on colored pencils to draw the details, like the eyes, tiny black spots and suckers. Finally, he relied on a white copic marker to draw the final details, like the glistening effect of the squid's body and its tentacles.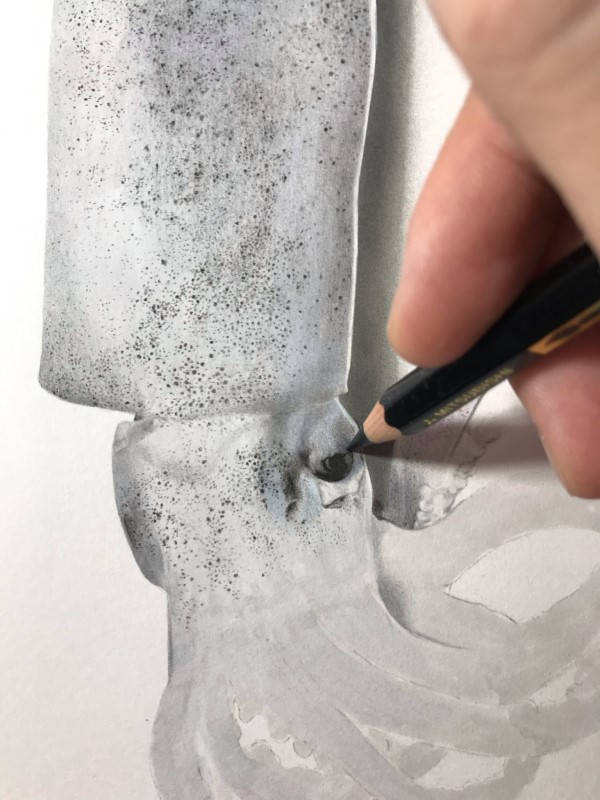 Photo: Yuuki Tokuda/Twitter
To show off the progress he has made in the last two years, Tokuda also posted side by side pictures of his first attempt from two years ago, and his most recent one.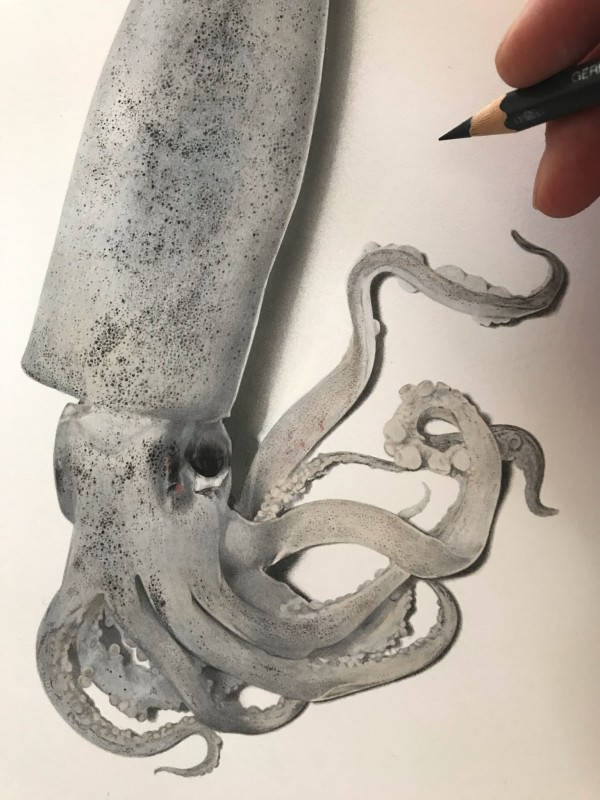 Photo: Yuuki Tokuda/Twitter
Interestingly, this isn't Yuuki Tokuda's first hyper-realistic drawing. In the past he has also drawn a very realistic-looking moray eel, a pile of endame, and even a cooked chicken wing.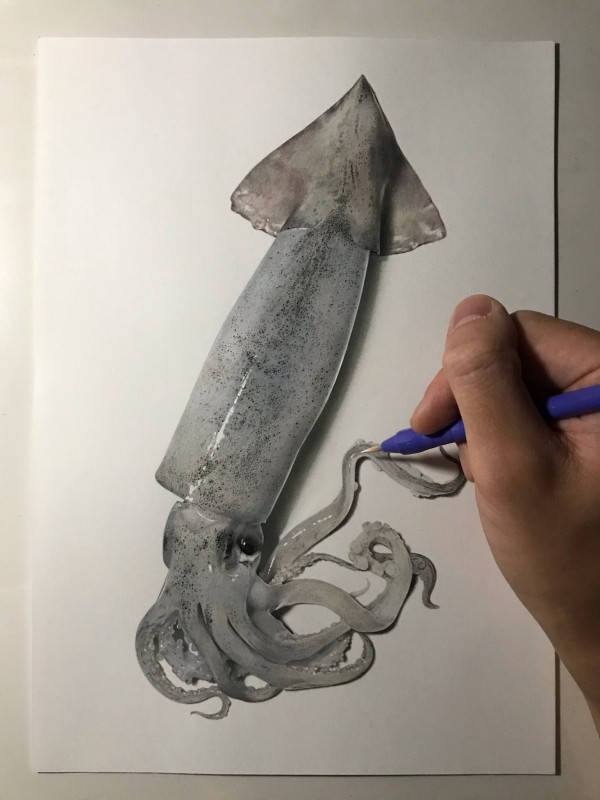 Photo: Yuuki Tokuda/Twitter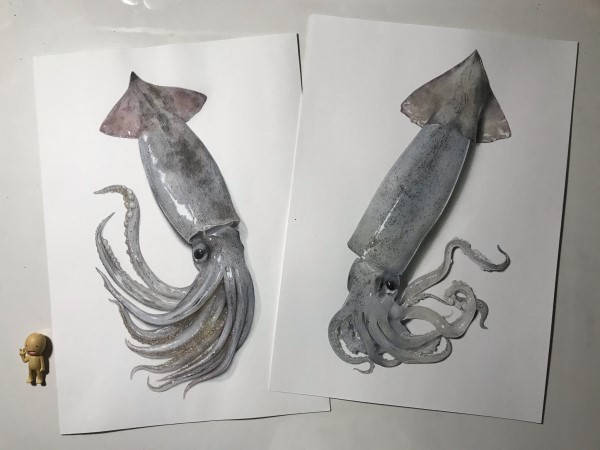 Photo: Yuuki Tokuda/Twitter (Left: previous attempt/Right: latest attempt)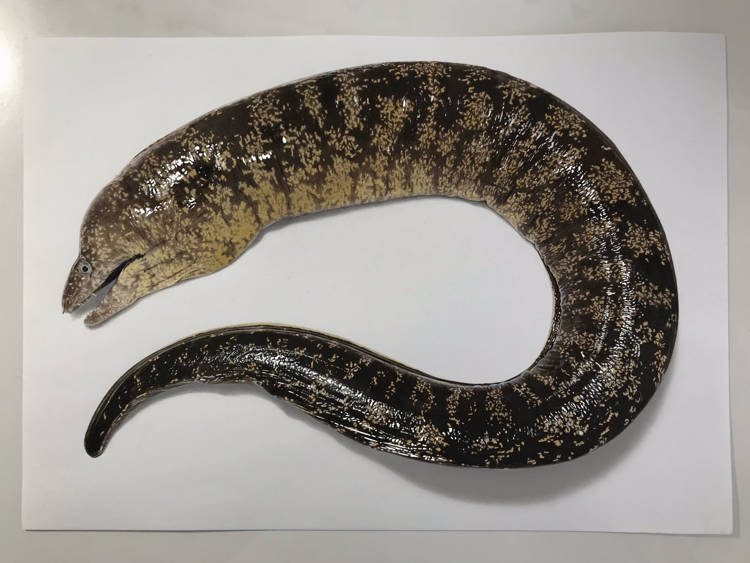 Photo: Yuuki Tokuda/Twitter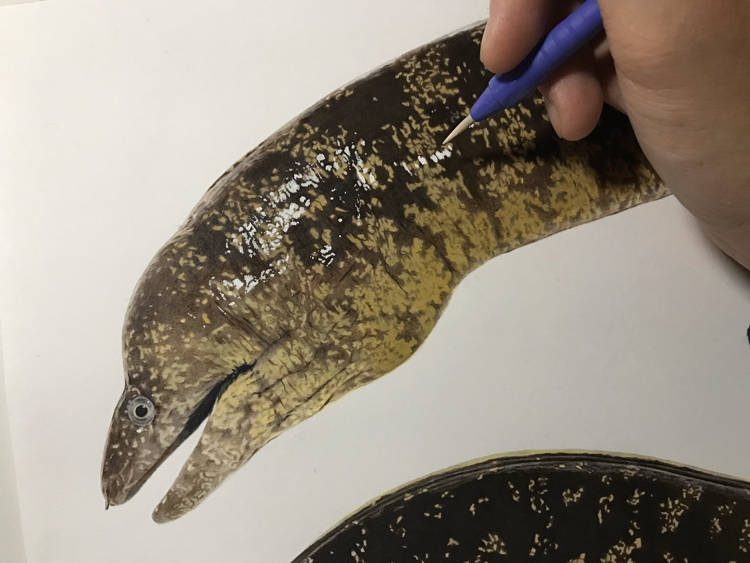 Photo: Yuuki Tokuda/Twitter
Photo: Yuuki Tokuda/Twitter
Photo: Yuuki Tokuda/Twitter
Curious what Tokuda's next project will be? Keep an eye on his Twitter and Instagram profiles, and while you're there check out his cute illustrations as well.
via Grapee