UK-based artist Justin Bateman creates some of the most amazing ephemeral artworks you've ever seen – intricate mosaics made up of hundreds, even thousands of colorful pebbles.
Looking at some of Justin Bateman's masterpieces, it's hard to believe that this level of detail can be achieved using only by arranging colorful pebbles and small rocks. And yet the English artist does in fact spend several hours putting each artwork together out of small fragments of rock. What makes his effort even more impressive is that his works are usually assembled on beaches, meaning they are only temporary. Can you imagine creating something as spectacular as these mosaics only to take a few photos of it and then walk away knowing it will be lost forever?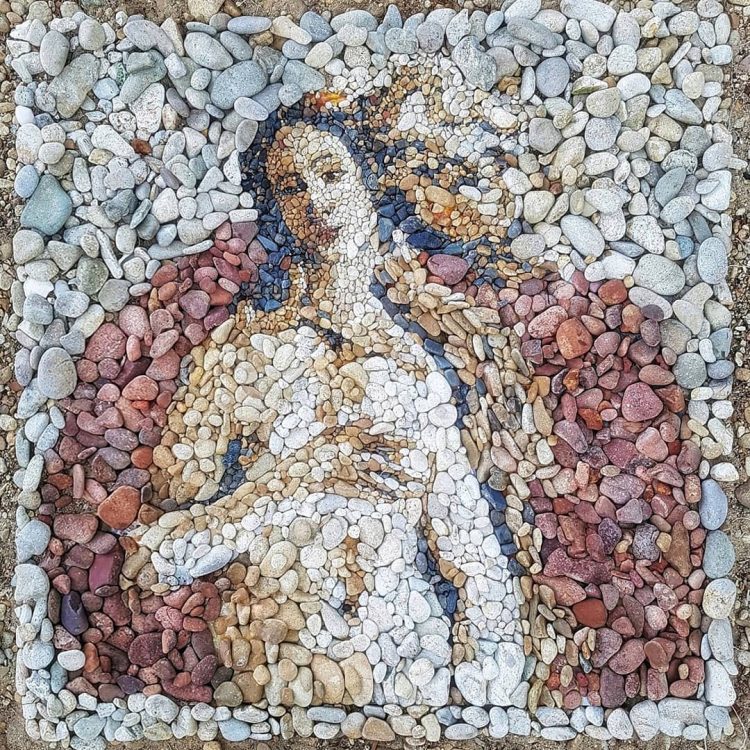 Photo: Justin Bateman/Land Minds
"At first it was hard to destroy the work when I had spent so many hours creating it," the artist told Bored Panda. "But the impermanence aspect of the site-specific work is important to me. I can make permanent pieces, but most of the work is not meant to last. It is ephemeral, like the seasons. I prefer the natural environment to remain natural, so I remove any indication of my presence when I leave the site and disperse the stones."
View this post on Instagram
Justin's masterpieces range from 1m² to 10m², can take between a few days and a few weeks to complete ("depending on how well the rocks are behaving") and always require perfect concentration to get just right. Looking at the quality of each and every one of these artworks, concentration is definitely not a problem for the artist.
View this post on Instagram
The English artist has been creating his amazing mosaics all around the world, from the beaches of Portsmouth, where his "land art" began, to Bali and Bangkok. Thanks to the internet, he is able to share all new projects with his fans at the touch of a button, from pretty much anywhere.
View this post on Instagram
"I work in forests, on beaches and even in car parks! In Bangkok, I used a railway line, where there was an abundance of stones," Bateman said. "I thoroughly enjoy each stage of the process, finding pebbles, planning the subject, locating the environment, making the art, photographing the outcome, and responding to my audience."
View this post on Instagram
Inspiration for these amazing pebble mosaics range from classic paintings to social and political themes, as well as culture and religion.
View this post on Instagram
To see more of Justin Bateman's amazing pebble mosaics, check out his official website, as well as his Instagram.
View this post on Instagram
For more incredible mosaics, I encourage you to take a look at Jim Bachor's pothole fixes.
View this post on Instagram
View this post on Instagram
View this post on Instagram