Russian artist Konstantin Khlanta creates intricate portraits of celebrities and fictional characters by wrapping colored string around strategically placed nails.
27-year-old Khlanta, who hails from the Russian city of Tula, only started doing string art in 2018, when he created a portrait of Chester Bennington, lead singer of Linkin Park, who had passed away a year before. Interestingly, it was Linkin Park who inspired Konstantin's artistic career, as he only took up drawing back in 2008 after hearing their son the music video for Linkin Park's 'Numb' in which he saw a woman drawing and decided to give it a try himself.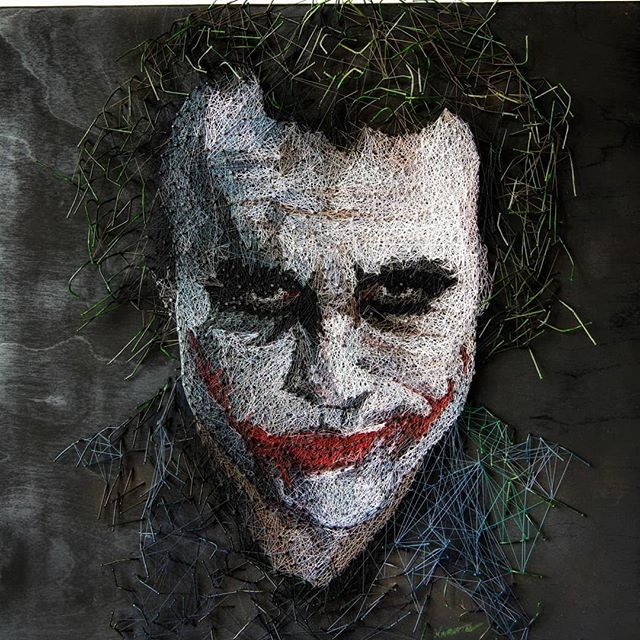 Photo: Konstantin Khlanta/Instagram
Describing his creative process when making nail and thread artworks, Konstantin Khlanta said that he starts out by sketching the design he wants to reproduce, after which he proceeds to attach nails over the sketch to create an outline. The young artist then removes the sketch and starts wrapping strands of colored thread around the nails. The overlapping threads end up creating his intricate designs.
View this post on Instagram
"I know that many artists who do string art use schemes, like from nail 1 to nail 5 etc. I don't have schemes, I use thread like a pencil and just draw," Khlanta said. "I learned to make layers and shadows by drawing with pastels, so it seems the same for me."
View this post on Instagram
Konstantin Khlanta's portfolio includes nail and thread portraits of artists like Avril Lavigne, Adele, or Batman villain Joker.
View this post on Instagram
View this post on Instagram
View this post on Instagram
View this post on Instagram
View this post on Instagram
View this post on Instagram
View this post on Instagram
View this post on Instagram