Andrey Poletaev is a master of the ballpoint pen, wielding the common writing tool to create stunning works of art that sometimes rival photographs in terms of realism.
Ukrainian-born artist Andrey Poletaev is considered one of the world's premier ballpoint pen artist, and looking at his exquisite works of art, it's easy to see why. Although he doesn't like to be categorized as a hyperrealist artist, his expertly drawn city landscapes and portraits are incredibly realistic to the point where they often get mistaken for photographs. To achieve this amazing level of realism in his ballpoint pen artworks, Poletaev applies up to twenty layers of pen ink on the canvas, and spends hundreds of hours on a single art piece.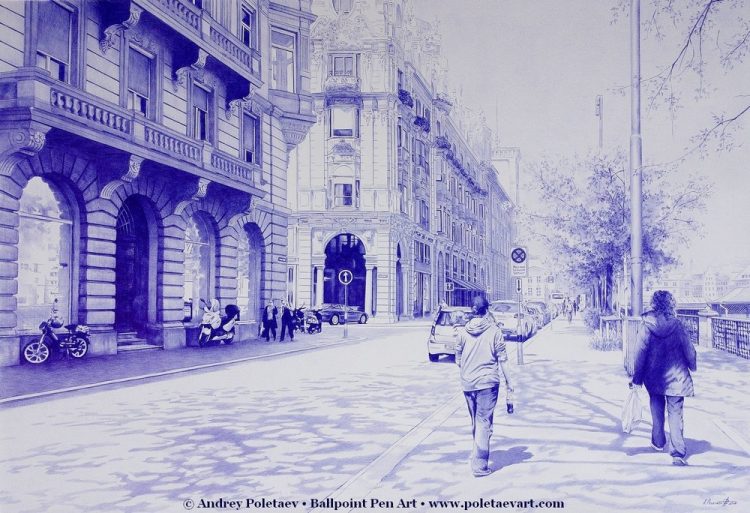 Photo: Andrey Poletaev
"In each drawing I refine techniques and embed new ones" Andrey Poletaev said in an interview. "I try to achieve the maximum effect of optical illusion. I apply many different layers of ink; layers of very light and long strokes, applied densely to each other; layers applied at other angles of the hatch to create uniform grey surfaces; layers applied with higher pressure on the pen."
View this post on Instagram
"Variable density of strokes and the length and angle at which they are applied, sharp and smudged, creates a perception of differently textured surfaces. Some areas of the drawing carry stronger or more defined contrast and contours, and multiple layers of ink create the perception of depth," the talent artist added.
View this post on Instagram
We've featured some insanely talented ballpoint pen artists in the past – Samia Al Homsi Dagher, Alfredo Chamal or Samuel Silva, just to name a few – but Poletaev's works stand out both in terms of complexity and character. The talented artist uses personally-invented techniques mastered over the years to manipulate important aspects like cross hatching, density and angles of the ink and create truly special artworks.
View this post on Instagram
View this post on Instagram
View this post on Instagram
View this post on Instagram
View this post on Instagram
View this post on Instagram
View this post on Instagram
View this post on Instagram