Liz Joy-Murray, an ex-Hollywood art director turned food artist creates sugary masterpieces that look way too good to eat.
Looking at Liz Joy-Murray' intricate pies, it's hard to believe that she has only been creating food art for only three years. It all started when she had to take a break from her Hollywood career for health-related reasons. She had to fill her time somehow, and baking just stood out to her, only, being an artist at heart, Liz didn't just settle for baking delicious treats, she decided to use her baked goods as canvases for her creative and vividly colored designs.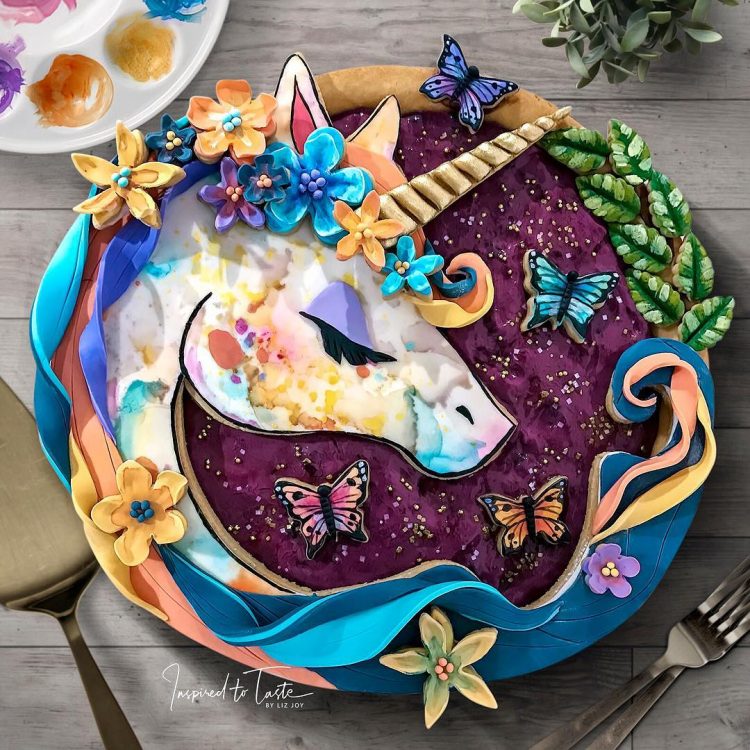 Photo © Inspired to Taste/Instagram
"I'm always interested in learning new techniques and materials, and the trial-and-error process can tend to be a bit time consuming and chaotic. I generally learn the most through trial-and-error and sheer stubbornness," Joy-Murray told Mail Online a couple of years ago. "Pies generally take me at least a couple of days from concept to completion. That's assuming I don't destroy anything in the process."
View this post on Instagram
Looking how intricate Liz's pies can get, breaking some small decoration while assembling her complex designs is a real possibility. Luckily, she's experienced enough to avoid accidents most of the time, and if something unexpected does happen, her incredible pies are definitely worth the extra time to redo certain decorations.
View this post on Instagram
Liz Joy-Murray always starts with a loose sketch of what she wants to create, so she can figure out all the elements she will need to put together, and the ingredients required to make them. All these elements are baked and hand-decorated separately, and then juxtaposed over the pie to create this glorious, colorful masterpiece.
View this post on Instagram
Some of the food-artist's pies look so good, you're tempted to think they are only aesthetically pleasing, but Joy-Murray insists that her edible masterpieces are meant to be a feast for both the eyes and the taste buds.
View this post on Instagram
"As long as I have photos of my dessert designs, I'm generally A-okay cutting into them, and more than happy to partake in the consumption," Liz said. "I create my treats to taste good as well as look cool and I really want for them to be enjoyed."
View this post on Instagram
Even though she has only been creating food art for three years, Liz Joy-Murray has proven herself one of the most talented and creative sugar artists in the world. Through her company, Inspired to Taste, she has worked with some of the world's most iconic brands, including Amazon Studios, Christian Louboutin or Forbes.
View this post on Instagram
For more of Liz's stunning pies, check out her official website and Instagram, where she routinely posts photos of her most recent projects.
View this post on Instagram
Autumn is the season of pies, and if you just can't get enough of beautiful pie art, feel free to feast your eyes on the geometrical pies of Lauren Ko, the pie portraits of Jessica Leigh Clark-Bojin, or the original designs of Karin Pfeiff-Boschek.