Ever heard of a pie too pretty to eat? Me neither, but then I discovered pastry designer Karin Pfeiff-Boschek and her intricately decorated creations, and I started to have a whole new appreciation for pies as works of art.
Anyone would be lucky to call Karin Pfeiff-Boschek their friend. That's because the German-born pie master bakes at least three pies a week and gives most of them to her friends after taking some photographs of them and sharing them with her Instagram fans. But looking at how beautifully decorated her works are, you can understand why she cares more about the photos than the pies themselves. Some of her creations look so incredible that it would be a crime not to keep any evidence of their existence. Luckily, Instagram lets artists like Pfeiff-Boschek do just that and make a living off of it.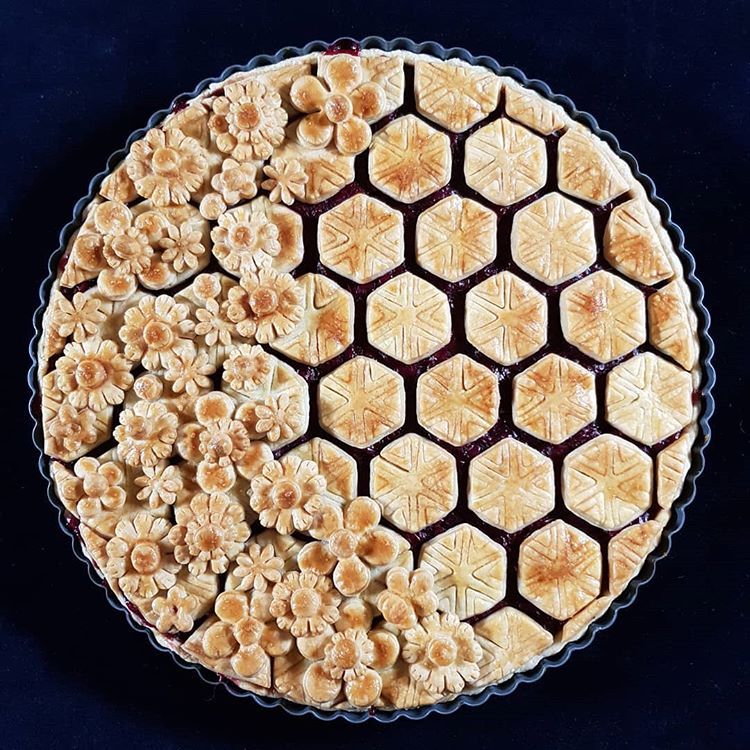 Photo: Karin Pfeiff-Boschek/Instagram
Karin Pfeiff-Boschek learned to bake from her mother and grandmothers as a girl growing up in central Germany, and settled on pies simply because there were many talented cake decorators in her country, while pie decoration was virtually unheard of. Her passion for pies was only fueled by her husband. Bruce, an Indiana-native who moved to Germany in the 1960's to study for his PhD. His mother was an award-wining baker, and he used her secrets to wow Karin with the most amazing pies.
I always liked his apple, rhubarb, pumpkin or blueberry pies," Pfeiff-Boschek told The Washington Post back in 2018. At some point, I thought the top crust would offer a good canvas for artistic creation."
By modifying her mother-in-law's recipes only slightly and developing her own techniques she took on the challenge of trying to decorate pies in a manner similar to how cake artists decorate their edible creations. It took a while for her to develop the necessary skills to ensure that her pies looked as stunning both before and after being baked, but I think you'll agree that the time she spent honing her skills was well spent.
"I found that by cooling the dough while creating decorations, using a very thin, sharp knife such as a scalpel and working very precisely it was possible to create ornate decorations that held their shape during baking," Karin Pfeiff-Boschek said. I make it a priority to also show the baked pie because regardless of how beautiful a pie may look before baking, it never will be served in that state and must look good after it comes out of the oven."
Karin uses many things as inspiration, from nature themes to geometrical patterns and Persian, Moorish motifs. The possibilities are endless, and she always finds ways to spice things up and keep her fans guessing what she will come up with next. While the pies where she uses expertly sculpted bits of dough to create the top decorations look the most impressive, she sometimes uses the filling as the decor, or dyes the dough different colors using natural ingredients like powders made from freeze-dried berries, spinach, and beetroot.
The German artist has been decorating and baking pies for many years. Now in her 60's, she says she and her husband have eaten enough pies, so they don't indulge very often. When they do decide to sample one of her artworks, it's usually a chocolate pie, although she say they are not her favorite to decorate.
You can check out more of Karin Pfeiff-Boschek's amazing pies on her Instagram, where she regularly posts new designs, but if you want something more personal, you can also buy her book, Elegant Pie, which contains 25 stunning pies and step-by-step guides on how to make them yourself.
Interestingly, Karin Pfeiff-Boschek isn't the only pie artist we've ever featured on OC. A couple of years back we posted the amazing pies of Jessica Leigh Clark-Bojin. You should definitely chedk them out if you're into intricate food art.