Shiltarae bingsu, or stringed shaved ice, is a modern take on a popular South Korean treat that consists of amazingly fine ice shavings that look like super-thin pasta.
You've probably heard of spaghetti ice-cream before, but this is nothing like that. Shiltarae bingsu is reportedly an incredibly airy and creamy treat that not only looks good but tastes great as well. It was allegedly invented a few years back by Seoul-based café and dessert lab Tiravento, and has since become a staple dessert, and a sought-after props for Instagram users. There is no denying the visual appeal of this treat, as the shaved ice actually looks like noodles before it starts to melt.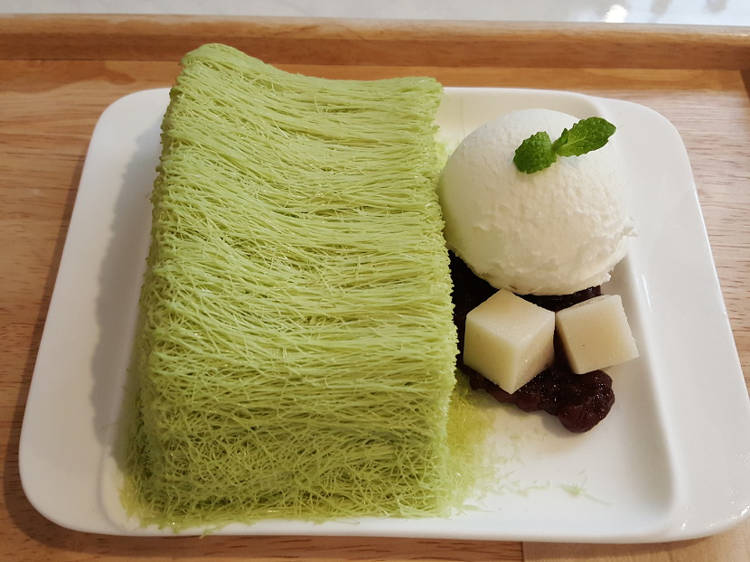 Photo: ISU Blog
The machine developed by Tiravento shaves super light strands of flavored ice, which are then stacked in a bunch and served with a side of red beans, a scoop of ice-cream and cubed rice cakes. Although bingsu is traditionally eaten with a spoon, this version of the South Korea summer dessert is so light that it can easily be cut and eaten with a fork.
View this post on Instagram
The ice itself contains a lot of milk that gives it a creamy texture, and comes in various flavors, including green tea, coffee, mascarpone cheese, or plain milk.
View this post on Instagram
Interestingly Tiravento isn't the only Seoul café to have built a reputation on stringy bingsu. Koyo, another popular establishment in the South Korean capital, has also come up with its own version. It's called Mont Blanc Bingsu and includes slightly thicker ice shavings that look like soba noodles.
View this post on Instagram
This isn't the first cool shaved ice dessert we feature on Oddity Central. A few years back, we wrote about the unbelievably high towers of shaved ice served at Japanese eatery Hyakusho Udon.
View this post on Instagram
For more amazing edible creations from around the world, check out our "foods" section.
View this post on Instagram