Shaved Ice is a really popular dessert in Japan, so you can find it pretty much everywhere, but if you're looking for the craziest, most outrageous shaved ice treat in the country, you have to go to Hyakusho Udon, in Miyazaki Prefecture. The only catch is that you'll probably have to eat it standing up.
No, Hyakusho Udon doesn't have a standing up policy, it's just that their famous shaved ice desserts are so incredibly tall that it's almost impossible to eat them with a spoon while sitting down. Just reaching the top of the colorful, syrup-soaked dessert with the spoon is a huge challenge for most people, and then there's the risk of causing the tower of refreshing goodness to come tumbling down by mistake. Standing up is definitely the safe way to go, and considering you're getting a lot more than your money's worth, it's a decent compromise.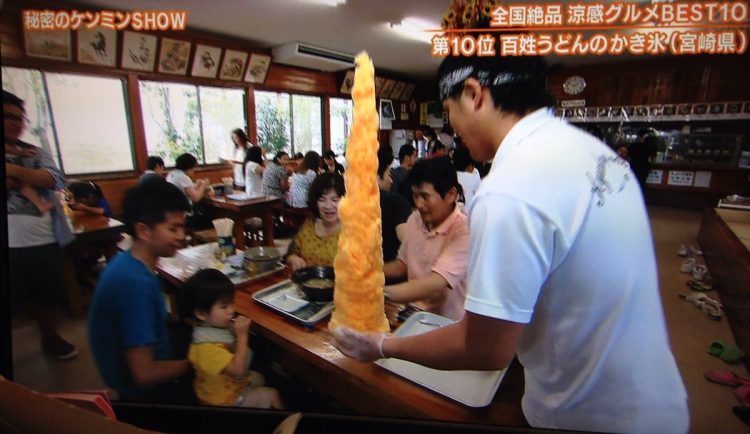 Photo: video screengrab
The guys at Japanese news site SoraNews24 recently visited Hyakusho Udon to investigate why people why people couldn't stop praising their shaved ice. As the name suggests, the place is primarily a udon restaurant, but in summertime, its unique shaved ice towers of goodness become the main attraction. The syrup and condensed milk treats come in two sizes, small and medium, only they can be a bit misleading, especially if this is your first time visiting the place.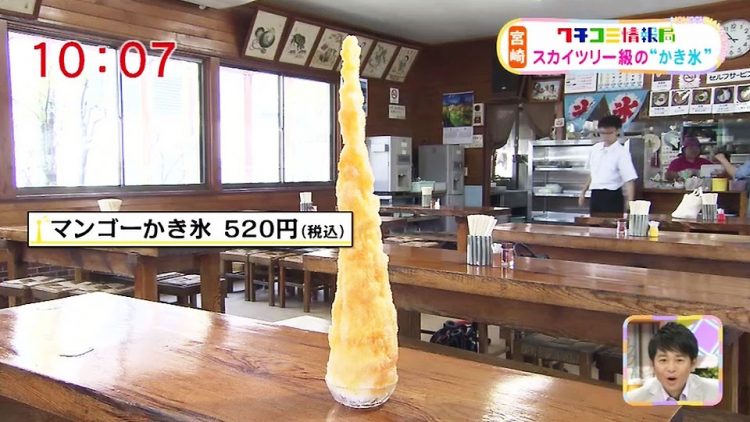 Photo: video screengrab
Priced at just 590 yen ($5.30) – which SoraNews24 reports is "a reasonably normal price for shaved ice at a sit-down restaurant" – the medium shaved ice dessert is actually an edible monstrosity that stands over 2 feet tall. My first thought was that it looked like a miniature tower, and it turns out that it was actually inspired by the Tokyo Skytree. The actual building measures 634 meters, so Hyakusho Udon thought it would be a good idea to make their shaved ice version 634 mm tall.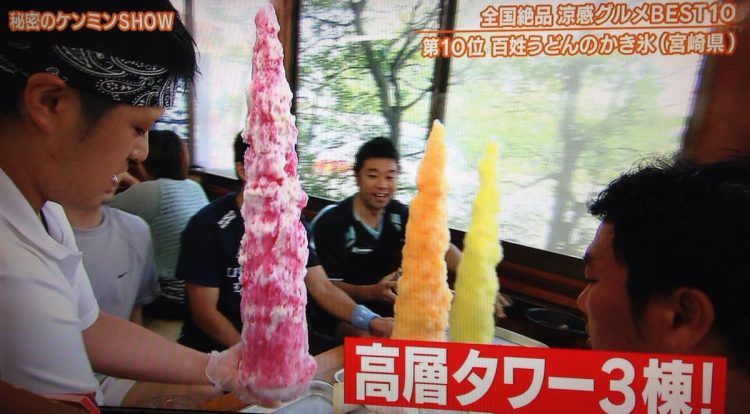 Photo: video screengrab
The colorful shaved ice towers at Hyakusho Udon are too tall to be served in regular bowls, so the restaurant uses extra-large ones that they normally use as chopstick holders. Even so, the treats looks pretty unstable, like their a couple of degrees Celsius from toppling over.
After the shaved ice is stacked onto the large bowl, it is smothered in flavored syrups and drizzled with condensed milk. SoraNews24 claims they're pretty good, but finishing one just by yourself is obviously quite the challenge and involves a lot of brain freeze, so this is one of those desserts that's best enjoyed with friends.