A Chinese man wound up with two large "play" triangles shaved into his new hairdo after asking his hairstylist to use a paused video on his phone as inspiration for the haircut.
It's not uncommon for people to show their barber photos of haircuts they'd like to try, but one man in China made the mistake of using a paused video on his phone as inspiration for his hairdo, and the detail-oriented hairstylist ended up incorporating the "play" symbol into the haircut as well. To be fair, the video had been paused at just the right moment and the large triangular icon on the screen looked like it was actually part of the hairdo. What are the odds of that happening, I wonder?
According to a Weibo post published by Chinese entertainment blogger 'Tian Xiu Bot' last month, the unnamed fashion victim was browsing on his phone while waiting to get a haircut at a hair salon. He was watching a video when he spotted one of the models on screen sporting the most amazing hairdo and quickly paused the footage to show the hairdresser the still image.
The man didn't pay much attention to the "play" icon that popped up on his phone when he paused the video, but the hairstylist definitely did. It somehow aligned perfectly with the man's trimmed hairstyle, so he asked the client if he wanted the triangle kept in as well. Excited about his last-minute find, the man didn't think really think about the question and simply answered 'yes'.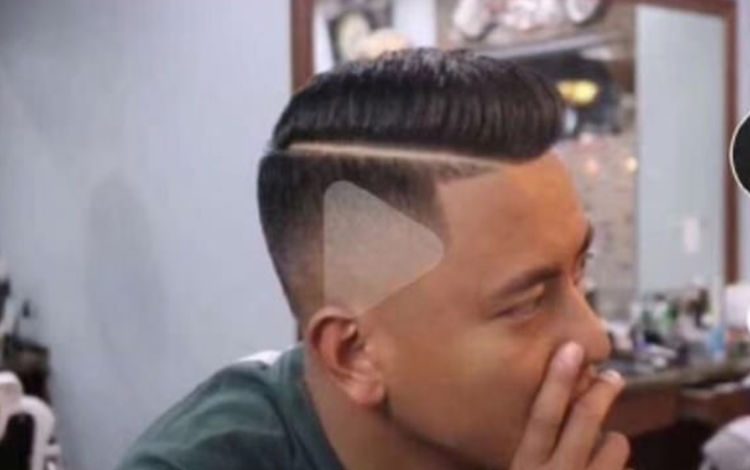 The paused video still
 Tian Xiu Bot also uploaded a short video of the unnamed man sporting the "play" icons shaved into his new hairdo and strutting proudly around the salon. Despite the unintended blunder, he appeared pleased with his new look, and people commenting on Chinese social media seemed to agree that it was a good look.
"This is a new trending haircut," one person wrote.
"Actually, that is a rather handsome look. It could be a new trending haircut," someone else posted.
Tian Xiu Bot's Weibo post and the accompanying video went viral on Chinese social media, getting nearly 20,000 comments and over 78,000 likes. It was shared more than 22,000 times and even picked up by major news outlets like China Daily.