We all have that one acquaintance who takes their pet everywhere with them, so from that standpoint, Lisa Foxcroft,  of Merseyside, in North West England, isn't that special. But what does make her stand out is that her pet is actually a taxidermy fox cub named Baby Jesus. The two of them have been getting a lot of attention on Instagram lately, as you can imagine.
Baby Jesus was apparently hit by a car as he was trying to cross the road, but he was (sort of) given a second chance at live with the help of taxidermy,  and gifted to Foxcroft as a Christmas gift, by a friend. She named him Baby Jesus to celebrate the holiday,  and before you start accusing her of blasphemy, you should know that Lisa considers a devout Catholic who respects all religious beliefs. Anyway, most people would probably wince at the sight of such an unusual Christmas present, but Lisa absolutely fell in love with Baby Jesus the moment she saw him, and they've virtually inseparable for the past two years.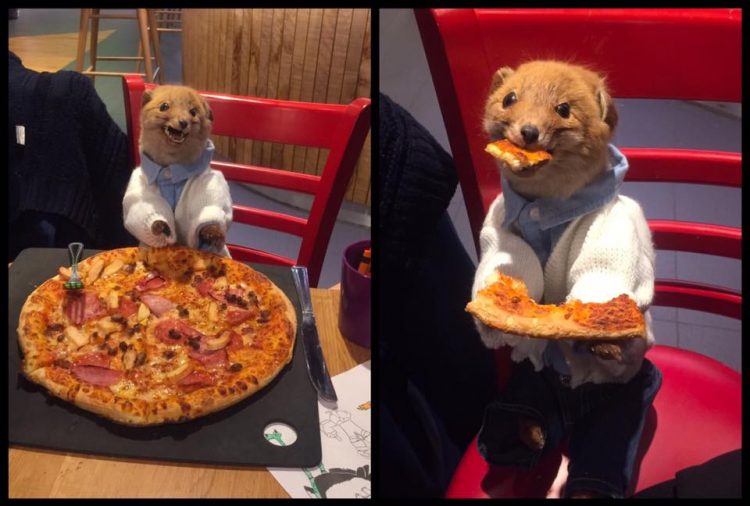 Photo: babyjesusfox/Instagram
"I have had Baby Jesus for two years now, I signed the final adoption papers on New Year's Eve 2015," Foxcroft told Metro.co.uk. "He was a Christmas miracle, a magical gift from a friend, the gift that keeps on giving. I took naturally to being his mum because he is just a little baby, and I look after him and care for him as if he is my own."
"I do take him absolutely everywhere, and I do get some strange looks – people often ask me what he is and why I have him, but once I explain his history and what he's about, people are really positive. They often ask to hold him and take selfies – everyone has been really nice," the young woman added.
Foxcroft, who is a vegan, says that she gets more backlash from the fox's name than the fact that she carries a taxidermy dead fox around with her. She makes a point to explain that the fox, as well as the other animals in her collection, are all ethically sourced.
"Baby Jesus was roadkill and unfortunately died accidentally, but he's been preserved instead of decomposing on the side of the road. I see taxidermy as art, preserving a beautiful animal, and I would never promote cruelty to animals in any way. At first people often just see "a dead animal" but it is more than that, it's an art form which has developed since the ancient Egyptians." Foxcroft explained. "People are a lot more conscious now about sourcing taxidermy animals ethically. Plus, I always take time to dress him nicely – he has an outfit for every occasion and it's difficult to dislike that, he always looks so lovely."
Foxcroft dresses Baby Jesus up as famous people for his Instagram pics, particularly reality TV star Gemma Collins, claiming that the resemblance between them is uncanny. Baby Jesus has, however, posed as everyone from Big Bird to Princess Diana.
This past Christmas Foxcroft's taxidermy family expanded with the addition of a badger called Ainsley, named after the British celebrity chef Ainsley Harriot. Ainsley was a gift from her new boyfriend, who Foxcroft made a connection to in a very fitting way.
"I went on a first date to a mouse taxidermy class in the Baltic Social [in Liverpool] – we both taxidermied our own mice and made them tiny little costumes," the woman told Metro. "Mine was playing a piano in a top hat and Michael's – my now boyfriend's – was riding a penny-farthing bicycle with a pair of blue wings. Last Christmas he presented me with Ainsley, so it's becoming a tradition – I'm excited for next Christmas!'It's my ambition this year to meet Ainsley Harriot in real life, and take along Baby Jesus and Ainsley, the badger."
You can follow along with Baby Jesus's adventures on Instagram.