Remember the Iranian real-life Hulk? Well, it seems neighboring Pakistan has its own version of the popular Marvel superhero. His name is Arbab Khizer Hayat, he weighs a whopping 436 kilograms, and claims to be the strongest man alive.
Hayat, who is popularly known as Khan Baba, hails from the city of Mardan, in northern Pakistan, has risen to internet fame thanks to his imposing physique and a number of impressive feats of strength, including preventing a tractor from backing up, by holding it with his bare hands, and doing the same thing with a car, but using only one hand. However, these are apparently not his greatest achievements. He recently told reporters in Pakistan, that in 2012, during a weightlifting contest held in Japan, he managed to lift 5,000 kilograms. "No one can break this record," he boasted. And I'd have to agree, even the real Hulk might struggle a bit with this challenge.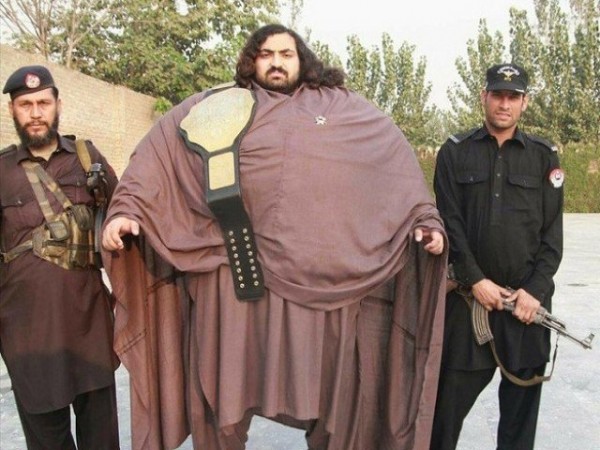 25-year-old Khan Baba, who comes from a wealthy family, says his body started developing abruptly when he turned 18, and he has been growing ever since. Instead of worrying about his growing weight, he decided to bulk up even more by adopting a high-calorie diet. He claims to consume over 10,000 calories a day, including 36 eggs for breakfast, four chickens, three kilograms of red meat and five liters of milk. Standing at 6ft 3in tall, Khan claims that his massive weight – nearly have a tonne – hasn't caused him any health problems so far. "I don't have any disease nor do I feel uncomfortable with my weight," he said.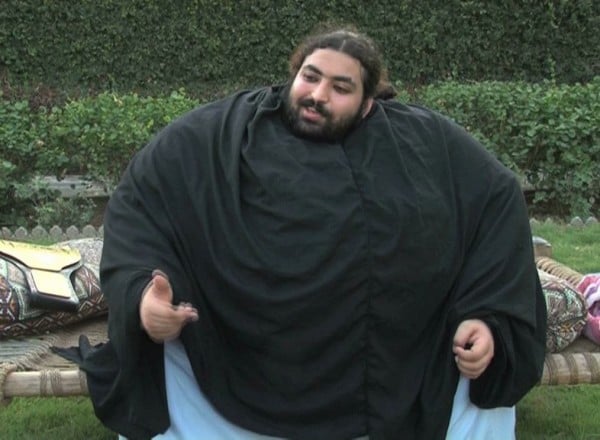 The only real problems he has is getting in and out of cars. "I experience problems while travelling in cars owing to space constraints," Baba, who owns a big SUV, said.
The self-proclaimed Pakistani Hulk allegedly grew up watching WWE wrestling on TV and dreamed of one day being as strong as his idols. Now he wants to become a wrestler himself. "My immediate goal is to enter World Wresting Entertainment (WWE) competitions," he told Caters News. "I am looking to meet weight targets and I am consulting doctors to keep nutrition going." Sadly, the weightlifting scene is virtually non-existent in Pakistan, but he hopes to change that by inspiring others with his stunts.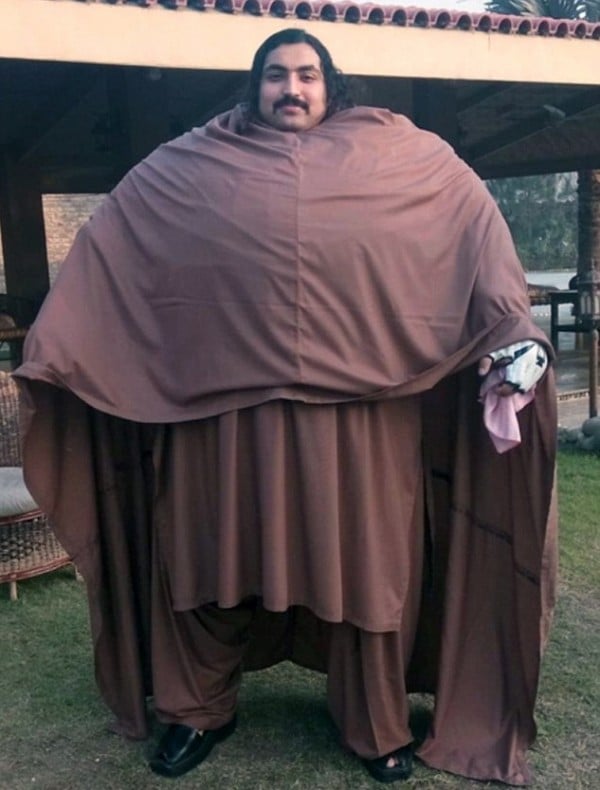 Hayat is somewhat of a local celebrity in Mardan, with people regularly turning up at his house to take photos with him, and he has allegedly been recognized as the world's strongest man, around Pakistan. But that's apparently not enough for Khan Baba. "I get a lot of love and admiration from the people here. But I don't want to stop here. I want to become a world star," he said.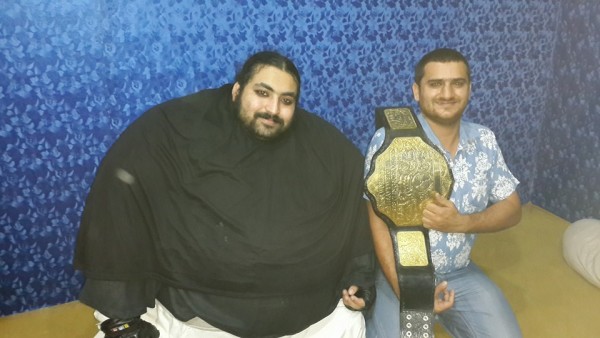 There's no question that Khan Baba looks pretty intimidating in some of his photos, but I for one have serious doubts that he is the real deal. First of all, he is always wearing these massive overalls that make him appear much bigger than he probably is. To be honest, in some of the footage I've seen – you can check some videos below – it looks like he has some serious padding underneath all that fabric, to make his chest stand out and not his belly.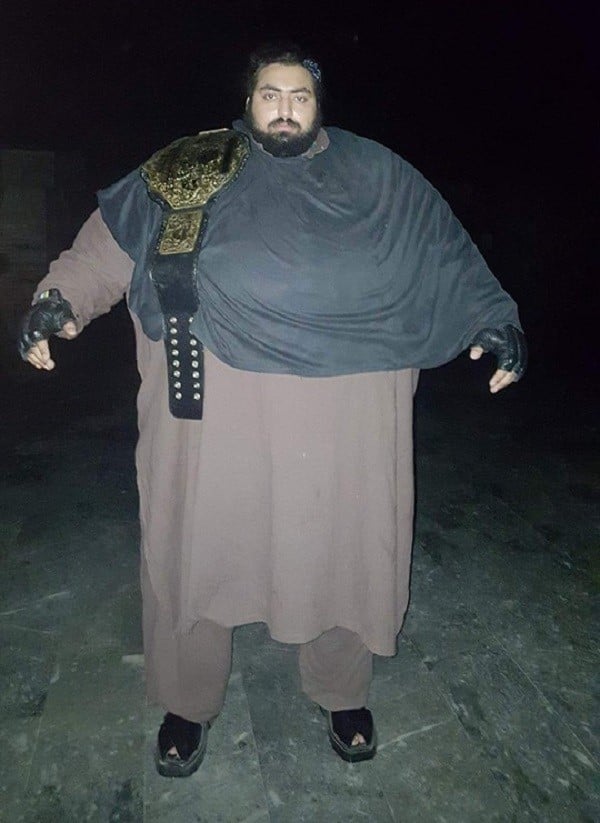 Also, in the videos showing Khan Baba stopping tractors and cars by pulling on a rope, with one hand or both, something just doesn't add up. He doesn't seem to be putting any effort into it, while the vehicles are seriously struggling. I suspect the flimsy rope would likely snap or be pulled from the man's hands if the stunts were actually real. And let's not forgetting the cherry on the cake, his "record" of lifting 5,000 kilograms. As if that were even remotely possible.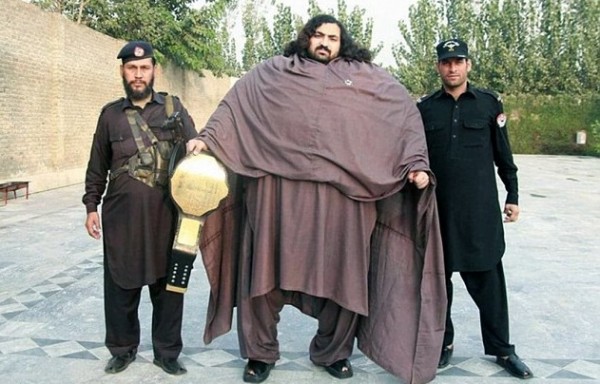 He may be what he claims to be, but I seriously doubt it. And apparently I'm not the only one. In an article published in the Express Tribune, people expressed their skepticism abut Khan Baba in the comments section. "Whats new? a fat dude making tall claims to attract attention. I know several people fatter and taller than him, no big deal," one person wrote.
"More of an INCREDIBLE Bulk than the HULK. Wake up man seriously you need to see a doctor," another man said.
Time will tell if Khan Baba is worthy of the name "Hulk", but until he actually proves himself, I remain a fan of Sajad Gharibi, the Iranian Hulk.
Photos: Dunya News, Harpal