A 6-year-old girl from China's Ningxia autonomous region managed to melt the hearts of millions with her dedication to her disabled father who she has been taking care of ever since her mother left them.
Tian Haicheng, a 38-year-old man from Haiyuan County, in Ningxia, had his entire world turned upside down four years ago, when he was involved in a serious car accident. He lost his ability to walk, and was left with use of arms, which made him unable to work and support his family. His wife took their son and abandoned him and their 6-year-old daughter. But instead of Tian having to somehow take care of his girl, she was the one who took up most of the responsibilities, including cooking, cleaning, and making sure that Tian was well taken care of.
It's hard to believe that a 6-year-old could take care of herself, let alone her severely disabled father, but this little girl is living proof that it's possible. In a video that has been doing the rounds on Chinese social media, she can be seen tending to her father's wounds, helping him get into his wheelchair, helping him eat, reading to him and even tucking him in at bedtime. It should be the other way around, but life isn't always fair.
With his daughter's help, Tian was able to overcome his depression and is now looking into the future as a hopeful man. Even though the car crash left him a cripple, the 38-year-old hopes that he can recover enough to relieve some of the burden currently on his daughter's shoulders.
The proud father started sharing photos and videos of himself and his young caretaker on social media, and it didn't take long for people to take notice of their situation. They were recently featured in a Pear Video, which has been shared thousands of times on WeChat.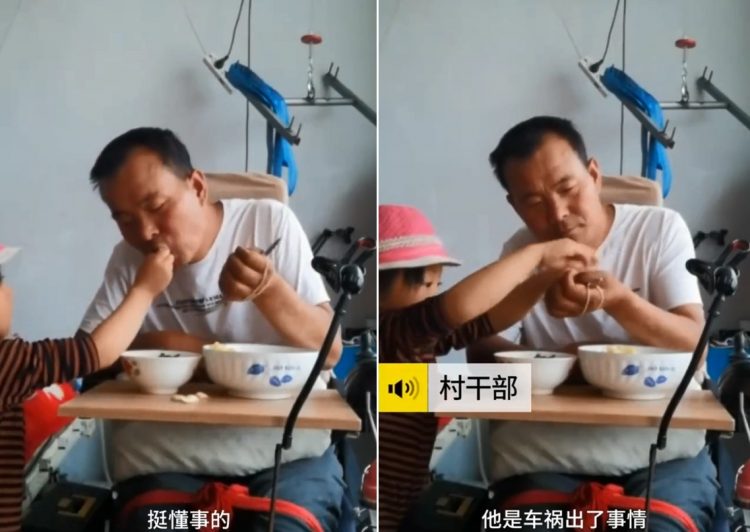 While most people expressed their amazement at the girl's maturity and commended her on her dedication to her disabled father, there were also those who expressed their sadness at seeing such a young child having to grow up so fast instead of spending her time playing like most of her peers. But, again, life isn't always fair…