"Chiseled physique" is not a phrase you would normally use to describe the appearance of a 6-year-old boy, but in the case of Arat Hosseini, the shoe fits perfectly, as they say.
Instagram star, soccer prodigy or expert gymnast are just some of the flattering labels people have used to describe Arat Hosseini over his short but very eventful life. He first made headlines around the world a couple of years ago when a video of what many originally assumed was a girl dribbling opponents on the soccer pitch went viral on social media. That 'girl' turned out to be a long, dark haired Iranian boy whose father had been training to become an athlete since before he could walk. Soon pictures of his tiny six-pack abs and videos of his training routines were doing the rounds on the internet, and Arat's career as an international social media star took off.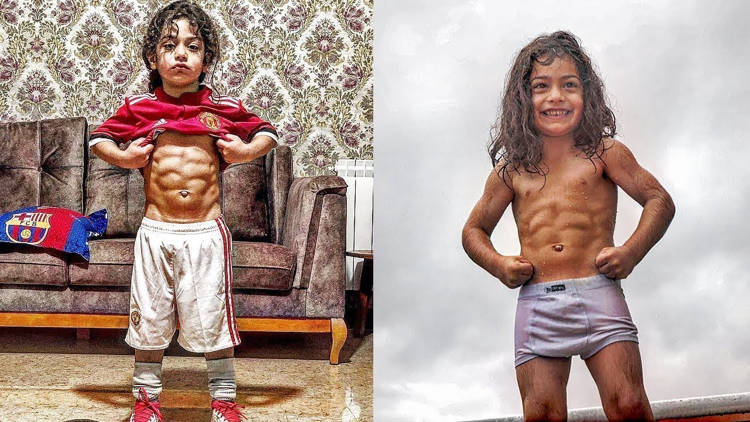 Photos: Arat Hosseini/Instagram
Arat's father, Mohammad, has been training him ever since he was a toddler. He started doing gymnastics since he was only 9-months-old and by the age of two he had already appeared in international publications. But that was only the beginning, as Arat soon discovered soccer and proved very adept at it, wowing the likes of Lionel Messi and Cristiano Ronaldo with his talent. But the thing that always gets him the most attention is his physique.
Having started training at such a young age, it's normal for Arat to be in great physical shape, but it's not everyday that you see a 6-year-old with a prominent six-pack. His biceps, shoulder muscles and pectorals look pretty impressive as well, prompting many of Arat's fans to crown him the world's strongest 6-year-old.
Arat, who was born in Iran but now lives in Liverpool so he can train at Liverpool Academy, is also one of the most famous kids on Instagram. He has over 4 million fans and routinely gets over 1 million likes on his posts, most of which show of his physique or his training.
"After realizing my son's talents, at the suggestion of those around me, I opened a page on Instagram, which was extraordinarily welcomed not only in Iran but also abroad," Mohammad Hosseini told Iran Front Page.
Mohammad has been accused of pushing his son too hard and depriving him of his childhood for financial gains, but Arat's father has often disputed these accusations, saying that Arat has always been an active child and interested in athletic activities. As a father, he only helped guide Arat by training him. He has always claimed that he has acted in the best interests of his son.
The 6-year-old wonder-boy dreams of one day playing for Spanish soccer club Barcelona and has already been praised by his favorite player, Lionel Messi.