I always thought intravenous treatments only worked on humans and animals, but apparently they do wonders for sick trees as well. The world's second-largest Banyan tree is currently being treated against a termite infestation, with an IV drip.
Known as "Pillalamarri" or "Peerla Marri", the 700-year-old Banyan tree in Mahabubnagar, India's Telangana state, spreads across three acres, making it the second-largest of its kind in the world. It's also in danger of being eaten alive by termites, which have already brought down some of its largest branches. Public access to the tree was restricted in December of last year, as desperate authorities scrambled to come up with a way to save one of a's biggest tourist attractions.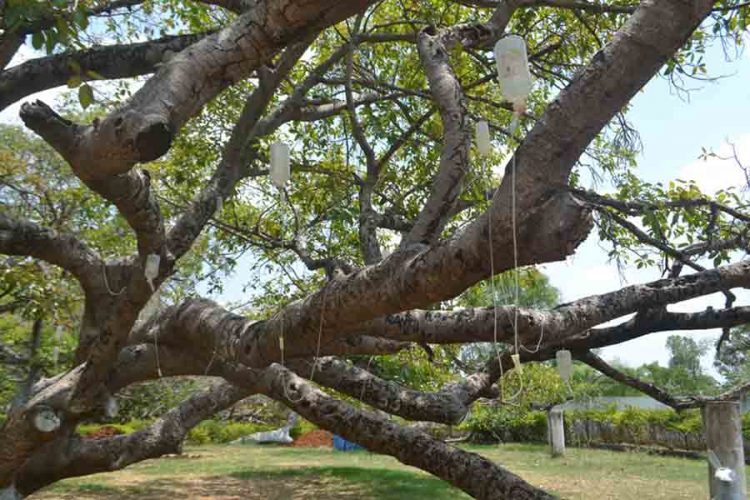 Photo: Telengana Today
First, experts tried pumping a powerful pesticide called Chlorpyrifos into holes in the tree, but that didn't work very well, as the solution came back out almost instantly. So they switched to an IV drip instead, hooking multiple bottles of diluted Chlorpyrifos to the tree and that has proven much more effective.
"We diluted the Chlorpyrifos chemical and started pushing it into the stem by keeping holes, but it didn't work out. The solution was coming back instantly. Later we started injecting solution like a saline drip. This process has been effective," Mahabubnagar District Forest Officer Chukka Ganga Reddy told the Times of India.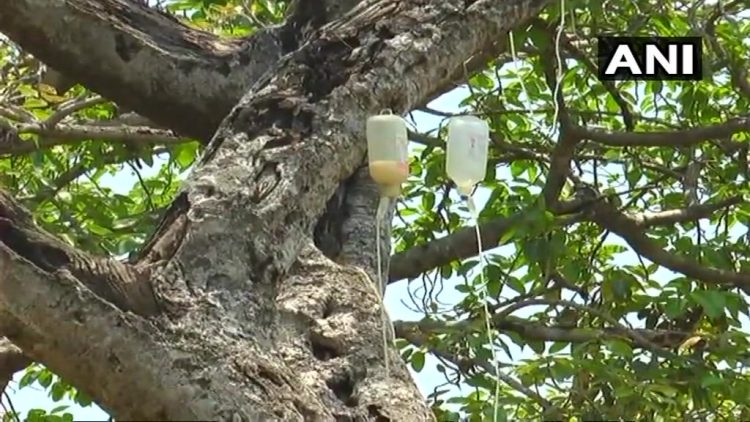 Photo: ANI
The branches absorb the drip solution in 10 to 14 hours, and this way the pesticide spreads throughout the trunk. Since the Banyan has several trunks, the diluted Chlorpyrifos is administered to different trunks in shifts.
Photos of the unusual patient hooked up to hundreds of drip bottles have been doing the rounds on Indian social media, with many declaring themselves surprised that intravenous treatment works on trees.
"The tree's health is stable now. We are hoping it will become normal after a few days. We are also planning to open the site to the public after discussion with the higher officials, but this time people have to see it from a distance away from the barricades," Chukka Ganga Reddy said.
Termite damage to the centuries-old Banyan is extensive, so authorities have also installed concrete support structures for some of its largest branches, but at this point, they are just trying to keep it alive.