Mangayamma, a 74-year-old woman in India's Anthar Pradesh state, recently became the oldest woman in history to give birth, after successfully delivering twin baby girls following an IVF procedure.
The Indian woman had married Yaramati Sitarama Rajarao, a farmer from Nelaparthipudi village, back in 1962, but despite visiting countless doctors and temples, the couple were unable to bear children for 54 years of their marriage. Mangayamma remembers people looking at her as if she had committed some kind of sin, and some calling her cursed, but luckily her husband stuck by her and gave her the strength to move on. Even after reaching menopause some 25 years ago, the woman still had a strong desire to give birth, and last year, after seeing a 55-year-old neighbor become pregnant via in-vitro fertilisation, she and her husband decided to undergo the procedure as well.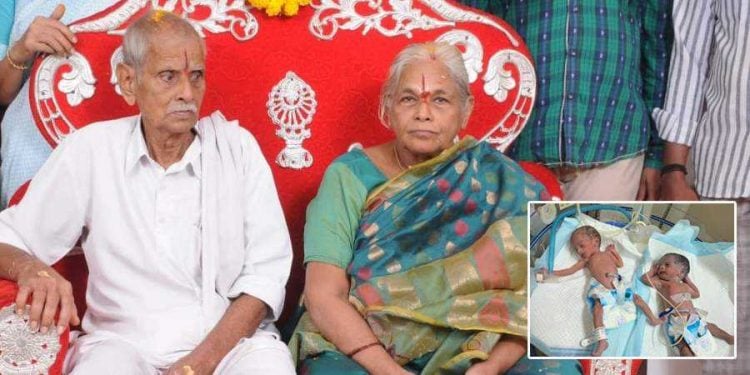 Doctors at Ahalya Nursing Home in Guntur admitted that it's not every day that they get approached by 74-year-old women looking to become pregnant, which made Mangayamma's case that much more special. They performed all the necessary tests and concluded that she could undergo IVF as she was not suffering from diabetes or blood pressure. However, they also asked her to undergo psychological counselling, to ensure that she understood what she was getting into and that she remained mentally strong throughout the pregnancy.
Despite her age, Mangayamma conceived in the very first cycle of the IVF procedure, and for the next nine months, a total of 10 doctors monitored her general health, nutrition and cardiac health, making sure that her pregnancy went as smoothly as possible. Yesterday, the 74-year-old woman became the oldest in the world to give birth, after delivering healthy twin girls. The previous record was set in 2016, when 70-year-old Daljinder Kaur gave birth to a baby boy, also through IVF.
"I am very happy. God has answered our prayers," Mangayamma told reporters "We are the happiest couple on earth today. We have our own children."
"It's due to the grace of God and doctors that I have now become a proud father of two baby girls," Mangayamma's 80-year-old husband added. "I am very happy. After 54 years, God has answered our prayers."
Doctors said that one of the main factors for the success of the IVF treatment was the mother's sound physical health. Following Thursday's C-section, both Mangayamma and her twin daughters were reportedly in good health, but remained at the hospital for observation.
The news of a 74-year-old woman giving birth has sparked controversy among doctors in India, with some claiming that it wasn't wise to allow a woman of that age to undergo the treatment, even if she pleaded with doctors. And even though the two parents gave assurances that they will take great care of their babies, some wonder if they will be able to do that, and if so, for how long.