A very popular video content creator from South Korea has come under fire for making "horrifying" videos of herself feasting on live seafood like octopus, squid and prawn.
Ssoyoung is a popular youtuber whose content can be described as a mix of ASMR (autonomous sensory meridian response) and 'mukbang' (online videos in which a host consumes large quantities of food while interacting with an audience). So she basically records herself eating all sorts of stuff and using high fidelity audio equipment to enhance the sound of her chewing for her viewers' pleasure. Ssoyoung has been sparking controversy online through her edgy videos for a long time, but a series of videos of her eating live seafood and enjoying every minute of it has really made the criticism wave rise recently.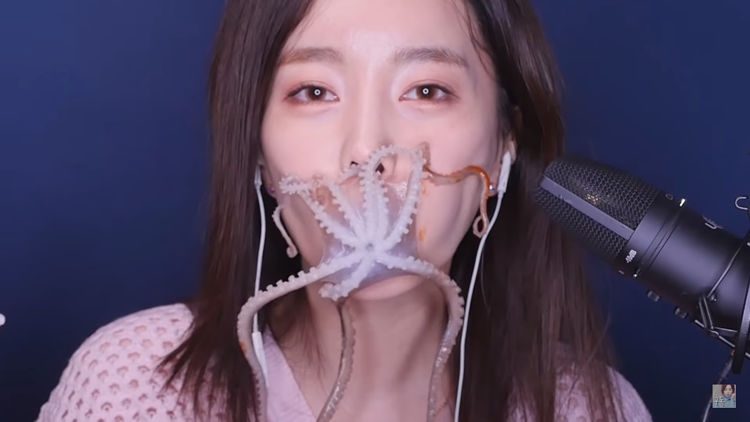 Photo: Ssoyoung/YouTube
By combining ASMR and mukbang, Ssoyoung managed to capture the attention of two of the most popular niches on YouTube, but there are some who claim that a big part of why she currently boasts over 3.4 million subscribers on Google's video platform alone has a lot to do with what and how she chooses to eat. A quick look at the videos on her channel reveals that the ones where she eats live seafood have considerably more views than most of the others. There are exceptions, but that seems to be the general trend.
Most likely aware of the popularity of her raw seafood eating videos, Ssoyoung has been posting quite a lot of them for some time now, but she has recently been facing severe criticism from both animal activists and fellow content creators. It all started with Ethan Klein, of H3H3 fame, posting a video of the "atrocities" committed by Ssoyoung which features several instances of her sticking live octopuses and squids in her mouth or cooking them alive as their tentacles spasm.
Ever since Klein's video went live on April 8, people have really taken up arms against Ssoyoung, putting up petitions, writing to YouTube to have her removed from the platform, and leaving negative comments on her videos.
"The fact she makes a show out of this is the most repulsive part of it all, everything dies but don't rip them apart alive and make a video of it," one person wrote.
"This is extremely sad, horrifying and disgusting all at the same time," someone else commented.
"The [octopi] are fighting for their life, and she broadcasts it to the internet," a YouTube user wrote. "This is basically like uploading videos of torture. How is YouTube not striking her channel to oblivion for animal abuse?"
Interestingly, Business Insider reached out to YouTube about the controversy around Ssoyoung's content and received this statement in response:
"Our trust and safety team is located around the globe and we draw upon this regional expertise when drafting our policies. We have strict policies regarding animal abuse, and have determined the videos highlighted do not violate them."
Ssoyoung herself or her team have so far declined to comment on the widespread criticism they are currently facing.
It's worth pointing out that while many people have been using the recent controversy to bash Asian culture in general, that couldn't be more wrong. While eating raw seafood is indeed part of many Asian countries' cuisines, the animals are usually killed in a humane way, not tortured on screen as a way to get more views.