Azusa Sakamoto loves Barbie so much that she spent a small fortune turning her Los Angeles home into a shrine to the popular Mattel doll.
Sakamoto, who goes by "Azusa Barbie" on Instagram, didn't get to play with Barbie dolls while growing up in Japan, because Mattel's iconic doll just wasn't very popular back then. She was already in middle-school when she first got her hands on a Barbie product – a lunchbox she found at an American imports store – but it was love at first sight. She has been collecting Barbie dolls and memorabilia ever since and estimates that she has spent over $80,000 turning her Los Angeles home into a life-size Barbie house.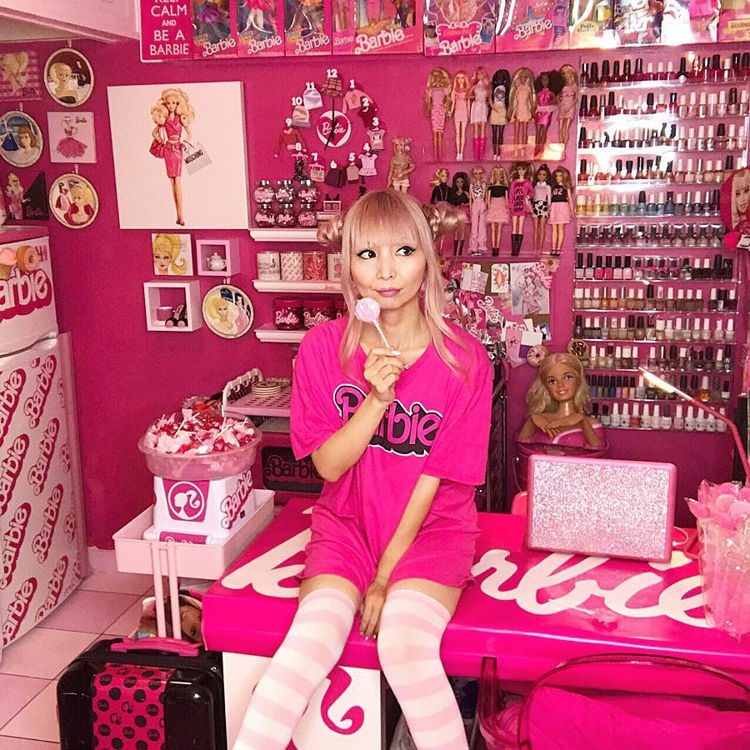 Photo: Azusa Barbie/Facebook
"It just looked like cool American pop culture," Azusa recalled about the first encounter with Barbie. "I didn't think it was for kids, you know?"
View this post on Instagram
Even though she only discovered Barbie when she was 15, Azusa has definitely been making up for lost time. She has been collecting every piece of Barbie memorabilia she could get her hands on, and her studio apartment in West Hollywood is a veritable pink shrine to the iconic character. The walls are painted bright pink and covered with Barbie-themed decals and artworks, and almost everything she uses, from drinking glasses to bath towels, is either pink or Barbie-themed.
View this post on Instagram
Azusa, who has been working as a nail designer in Los Angeles for four years, also dyes her hair pink and only wears clothes that are pink or feature the Barbie logo. She travels to Barbie conventions all over the country to meet like-minded people and keep up to date with what's been going on in the world of Barbie.
View this post on Instagram
While some people might mistake her obsession with Barbie as an attempt to emulate the doll in real life, Azusa Sakamoto insists that she just loves Barbie, not trying to be like her.
View this post on Instagram
Whether it's designing Barbie-themed fake nails, posting photos of her Barbie house on Instagram, or shooting YouTube videos for like-minded fans of the Mattel doll, Azusa says she does something related to Barbie every day. And looking at her house and the way she dresses, I guess it's really hard not including the popular doll in everything she does.
Azusa Barbie estimates that she has spent over $80,000 on Barbie dolls, clothes and other related items, but she has no regrets. Although some people might see her obsession with the Mattel character as strange, she claims it's really fun being in her shoes. "I just love being myself," she told Barcroft TV.
Something tells me that Azusa Sakamoto and "Barbie Man" Stanley Colorite would really hit it off.