A Russian influencer recently took to social media to share details of a freak accident that claimed the lives of her husband and several friends during a pool party for her 29th birthday. The victims reportedly suffocated after dry ice was unloaded into the pool.
Ekaterina Didenko, an Instagram star with over 1 million followers, recently celebrated her 29th birthday, which quickly turned from a joyous event to a tragic one, when someone made the fatal mistake of dumping 25 kilograms of dry ice into the swimming pool. According to some sources, Didenko's husband, Valentin unloaded the dry ice into the water to dazzle guests with the smokey reaction, while others claim that he did it in order to make the waster cooler after some guests coming out of the sauna complained that it was too warm. Whatever the reason, the dry ice in contact with the water created a chemical reaction that caused three fatalities and several cases of chemical burns.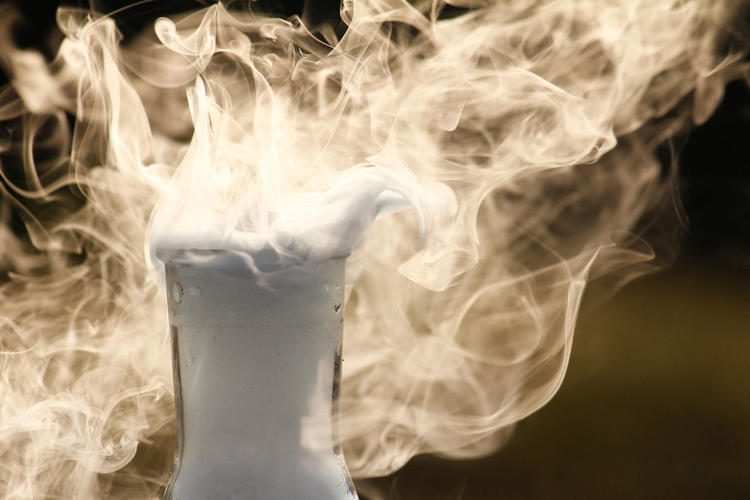 Photo: Mikk Mihkel Vaabel/Wikimedia Common
Almost immediately after the dry ice was dumped into the pool, guests started coughing, choking and losing consciousness. Two people reportedly died at the Moscow pool complex late on Friday, while IT specialist Valentin Didenko, was pronounced dead at a hospital in the Russian hospital. A distraught Ekaterina Didenko shared the tragic news with her fans via an Instagram video just hours after posting photos and stories from her birthday party.
View this post on Instagram
"I am alive, I am behind the doors of an intensive care ward. I don't know who died. Valya is in the intensive care. I don't know what state he is in," Didenko said in the video. "I thought it was not true, it was a nightmare."
While the tragic incident is still being investigated, preliminary analysis indicates that the three deaths were caused by suffocation. Dry ice is frozen carbon dioxide, and when released in an area without proper ventilation, people can inhale dangerous amounts of the gas.  In extreme cases, it can cause levels of carbon dioxide in blood to soar, preventing oxygen from reaching vital organs.
Ekaterina Didenko, a qualified pharmacist,  is known for posting tips about how to use home remedies for illnesses and money-saving tips when buying pharmaceutical products. She has over 1 million followers.