Valdir Segato, a Brazilian bodybuilder in his early 50s, has been injecting an oil-based substance into his upper body muscles for year. Despite looking like someone took an air pump and inflated his arms and chest like balloons, he continues to use the appearance-enhancing substance regularly.
As a teenager, Valdir became addicted to drugs and lost so much weight that his friends started calling him 'Skinny Dog'. He managed to turn his life around though, and started going to the gym every day. Still, he wasn't satisfied with the results his hard work lifting weights yielded, so when someone introduced him to the popular muscle-enhancement substance synthol, he became hooked on it. The Sao Paolo-based construction worker has been regularly injecting synthol into his biceps and pectoral muscles for years, and despite being warned that he risked having his limbs amputated if he continued to use the substance, he hasn't been able to stop.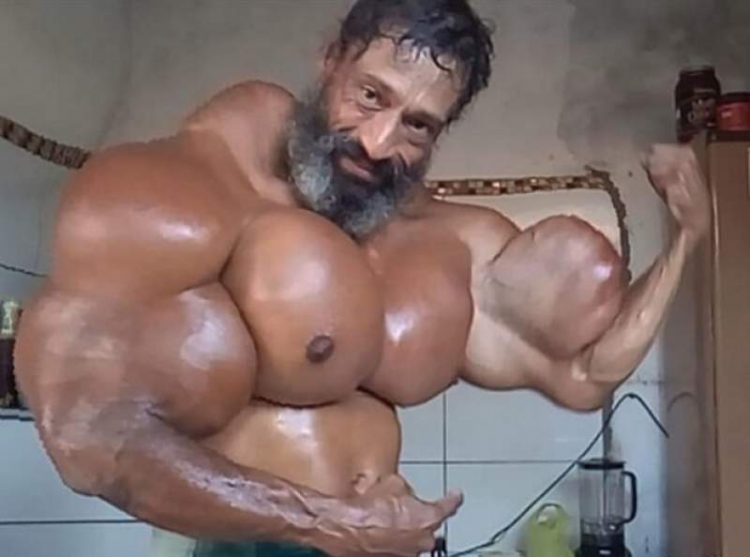 Photo: Valdir Segato/Instagram
"The doctors tell me to stop it, the advice they give me is to stop using. But it's my decision to use it because I want to, because I like to," Valdir Segato said, three years ago. "They call me Hulk, Schwarzenegger and He-Man all the time and I like that. I've doubled my biceps but I still want to be bigger."
View this post on Instagram
And he has indeed gotten bigger over the last three years, with his biceps now measuring 23 inches in circumference. The problem is they don't look natural at all, but like inflated balloons ready to be popped. He doesn't care about that, though, he just wants to get bigger and likes the attention he gets because of his deformed muscles.
View this post on Instagram
Valdir regularly posts photos and videos of himself on social media sites like Facebook and Instagram,where he uses the handle "Valdir Synthol". He currently has over 19,000 follower on Instagram, which is not too shabby.
View this post on Instagram
Synthol consists of 85 percent oil – most often sesame oil – 7.5 percent lidocaine, a painkiller, and 7.5 percent alcohol, to sterilize the mix. It is injected directly into the muscle to increase its size or change its shape. It is used by some bodybuilders to touch up certain muscles that may be slightly deformed or underdeveloped, but in extreme cases such as Valdir's, it ends up making up most of the apparent muscle.
View this post on Instagram
In some cases, synthol use can cause a variety of health problems, from pulmonary embolisms and strokes, to granulomas, cysts and ulcers in the muscle.
View this post on Instagram
If you don't want to put in the work, maybe use this instantly buffing undershirt, just don't pump yourself full of oil.