A Canadian woman known only as "Canadian Susan" recently got her five minutes of online fame after revealing that she had to cancel her dream wedding just 4 days before it was scheduled to take place, because guests refused to pay a $CAD 1,500 "cash gift" required to attend.
The unnamed bride and her fiancee only had a budget of $CAD $15,000 for their wedding, but after visiting a psychic who told them to go with the most expensive option available, they apparently decided to have an extravagant ceremony, which they figured would cost them around $CAD $60,000. All they needed now was a bit of financial assistance to make their dream wedding happen, and who better to ask than their family and friends? After doing the math, they found that if every guest pitched in $CAD 1,500 ($1,150), they'd have enough to cover the costs. Apparently, the idea of paying a hefty feed just to attend the weeding didn't really appeal to a lot of people.
Photo: Pexels/Pixabay
"I specifically, I mean specifically asked for cash gifts. How could we have our wedding that we dreamed of without proper funding?" Susan wrote in a Facebook post shared by someone who claimed to be her cousin. "I mean seriously people, what is $1,000? What is $1,500? Clearly, not a lot. It would be quite manageable and within budget. I've heard of people asking for worse."
Everything seemed to be going according to plan, at first. Susan's made of honor pledged $CAD 5,000 along with her wedding planning services, her fiancee's family also offered to put up $3,000 to help them fulfill their dream, and some of the guests also promised to contribute. But after sending out all the invitations, only 8 people RSVP'd with their cheques of $CAD 1,500.
"We were f***ing livid." Susan wrote. "How was this supposed to happen without a little help from our friends. To make matters worse, my ex's family took back their offer. Suddenly, more people backed out, including the c*** maid of honor. My best friend since childhood. My second family. I was so shocked and tearful."
With just one month to go before their dream wedding, the desperate couple did everything they could to raise the necessary funds. They told guest to donate however much they could afford, and even set up a GoFundMe crowdfunding campaign which ultimately only raised $250. At one point, Canadian Susan's fiancee propose that they just elope to Vegas instead, and forget about this stressful dream wedding that just didn't seem possible anymore. But that just made things worse.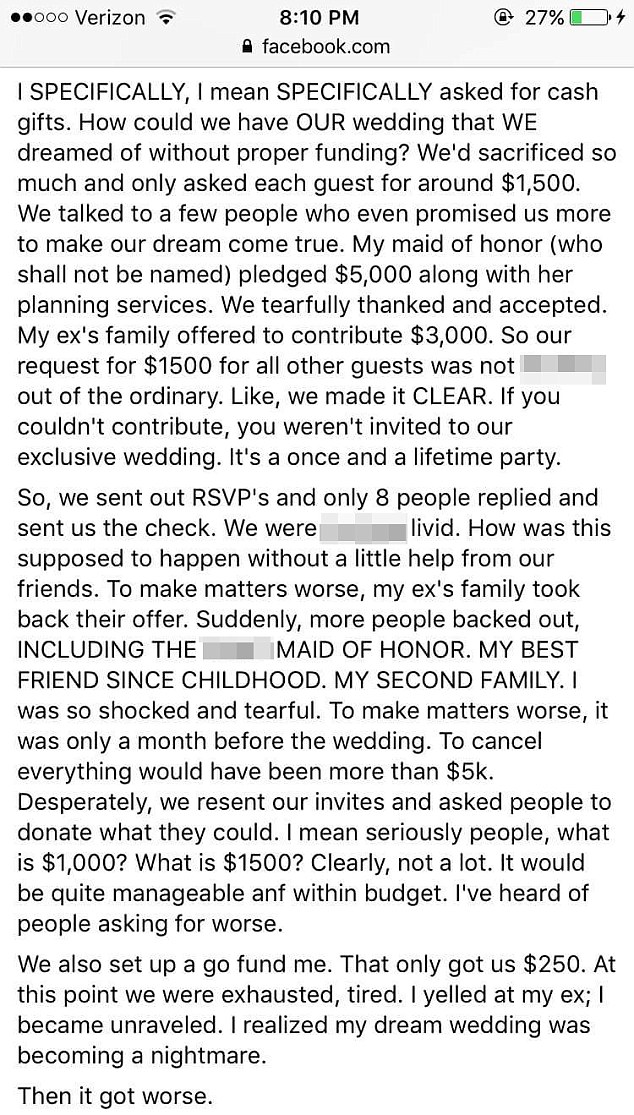 Photo: Facebook
"I laughed in his face, but he was dead serious. He wanted those cheap, filthy, w**** like Vegas weddings. I mean WHAT the f***?? Was he out of his mind?" Susan wrote in her post. "Am I some h**ch piece of f***ing trash, a hooker? Am I supposed to like the idea of getting married in the heart of shady gamblers, alcoholics, and the get rich fast fallacy? Suddenly, my body began to shake as I entered a panic attack."
When she called her maid of honor to complain, she was told that she was asking for too much and that she should stick to her original body. That didn't help things either. Susan called her a "f***ing poor excuse of a friend", and hung up.
Things started getting worse between Susan and her fiancee, and four days before the wedding, she took to Facebook to let everyone know that the whole thing was off and that she and her long-time partner had split up due to "irreparable problems".
"Dear friends, it comes with great sadness that I am announcing the cancellation of the wedding. I apologise for cancelling only four days beforehand. Unfortunately, [fiance's name] and I have broken up due to some recent and irreparable problems. We have decided to end our relationship and not go forth with any future proceedings."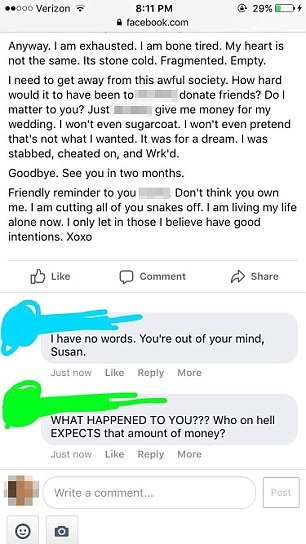 Photo: Facebook
But she didn't even try to make amends, instead insisting that asking family and friends to pay a $CAD 1,500 fee to attend the wedding was completely normal.
"So our request for $1,500 for all other guests was not f***ing out of the ordinary. Like, we made it clear. If you couldn't contribute, you weren't invited to our exclusive wedding. It's a once and a lifetime party," Canadian Susan wrote.
She then let everyone know that she was devastate and planned to go backpacking through South America for a couple of months to recover. She ended by letting her Facebook friends just what she thinks of them:
"It was for a dream. I was stabbed, cheated on… Goodbye. See you in two months. Friendly reminder to you c***s. Don't think you own me. I am cutting all of you snakes off. I am living my life alone now. I only let those I believe have good intentions."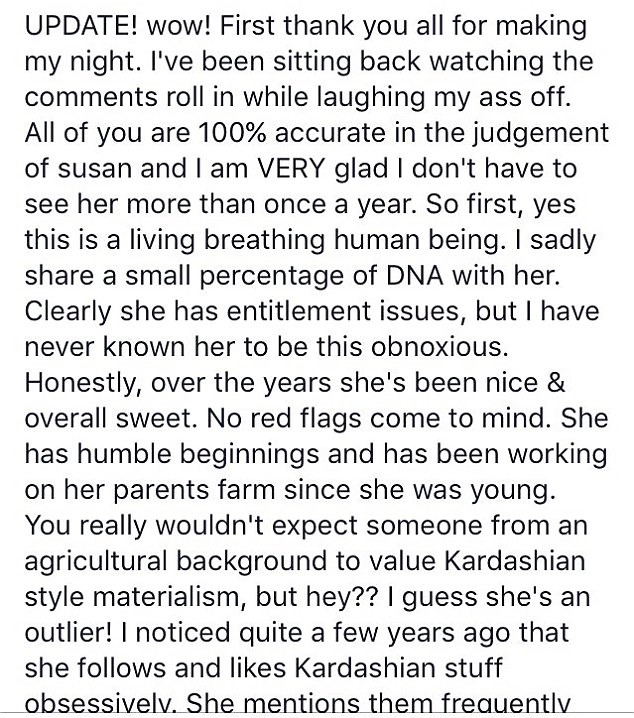 Photo: Facebook
The Bridezilla's post was apparently only up on Facebook for 15 minutes before getting deleted, but that was more than enough for one of the people who saw it to caption it and share it on social media. It quickly went viral on multiple social networks, and was even shared by some celebrities.
The whole thing sounds so surreal that it's no wonder that a lot of people wondered if it was real or just a prank. However, a woman claiming to be Canadian Susan's cousin came forward and assured everyone that Susan is "a living breathing human being", before expressing her relief that she "doesn't have to see her more than once a year".
The cousin insisted that Susan had been "nice and overall sweet" in the past, but that she clearly had "entitlement issues".
Following all the attention her shocking Facebook post has been getting in the last week, Canadian Susan managed to become an internet meme with her very own entry on Know Your Meme.