A 26-year-old Chinese man was recently labeled Wuhan's fattest person after gaining a whopping 100 kilograms during the city's five-month lockdown.
The man, referred to only as Zhou, to protect his privacy, wasn't exactly fir before the coronavirus started wreaking havoc in Wuhan, prompting the authorities to impose a strict lockdown. But at least he kept his weight in check, worked at a local cafe and lead a relatively normal lifestyle. But that all changed when Zhou started spending most of his time indoor. Unable to burn off any calories, he started gaining weight, and in a few months' time he had ballooned to 616 pounds (280 kilograms), over 200 pounds more than he weighed before the Covid-19 epidemic.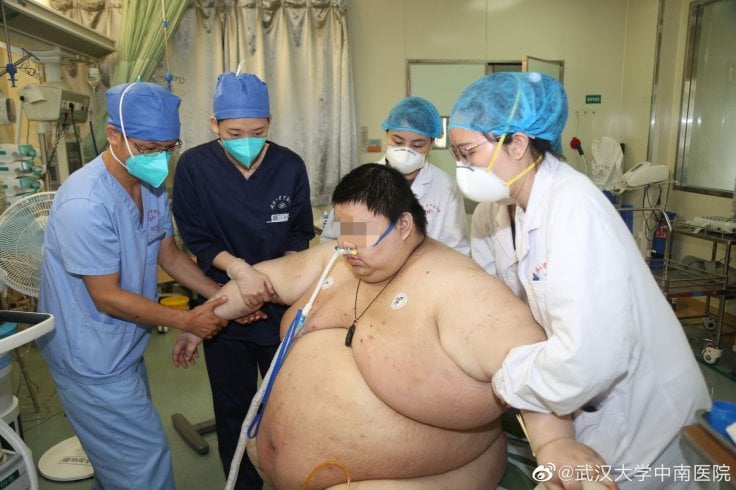 Photo: Weibo
Zhou's shocking case was revealed last week, by one of the doctors who treated him at the Wuhan University Central South Hospital, a long with photos of his admission, on June 1st. He reportedly told doctors that he had not left his home since before the lockdown, in January, and that his weight had made it impossible for him to sleep comfortably anymore, which was why he finally asked for medical assistance.
"Doctor, I haven't closed my eyes for 48 hours. It's so uncomfortable. Can you help me?" Zhou allegedly asked Dr Li Zhen, the deputy director of the Obesity and Metabolic Surgery Center of the Central South Hospital of Wuhan University. By that point, he had already contacted other doctors, who had refused to assist him because of his extreme weight.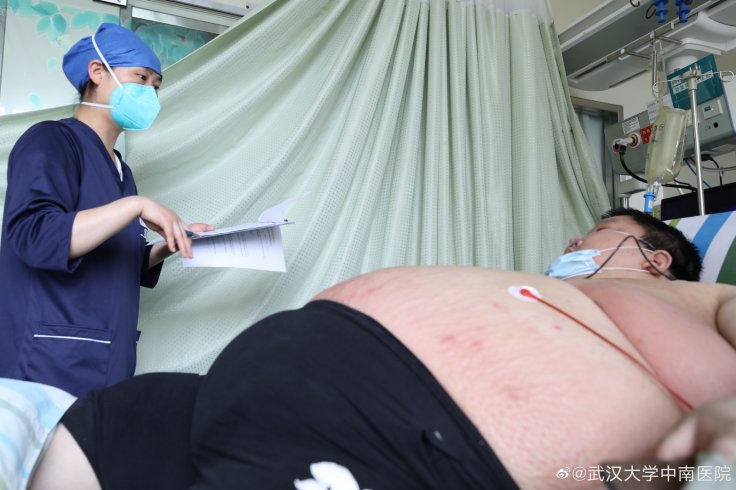 Photo: Weibo
After a team of paramedics struggled to get Zhou out of his home and into an ambulance, he was admitted in the ICU, where initial tests revealed various symptoms, such as heart failure and respiratory dysfunction. Unfortunately, his size made it hard for doctors to conduct other needed tests, like blood pressure and EEG. For 10 days, doctors tried to stabilize him, and on June 11 he was declared stable and out of immediate danger.
Dr. Li Zhen said that the patient's obesity was caused by genetic factors and endocrine abnormalities exacerbated by his inactivity and increased calorie intake during Wuhan's five-month lockdown. He had his team are hopeful that Zhou will be able to lose at least 50 pounds so he can safely undergo a  gastric bypass or stomach reduction surgery to help him shed most of the excess weight.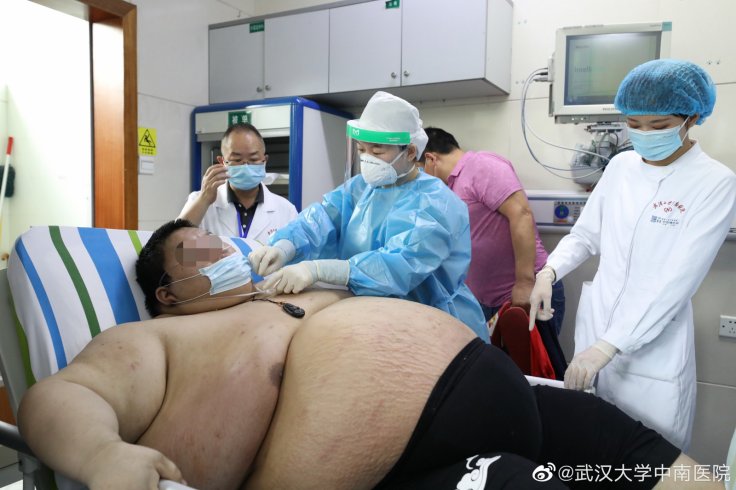 Photo: Weibo
"I can only hope that by adjusting diet and rest and other methods, it (body weight) can reduce more than 50 pounds in three months so that the risk of surgery will be greatly reduced," the doctor said.
As someone who has put on some serious weight during these trying w months, I can totally relate to Zhou, although 100 kilograms seems like a lot…