Proposing with a diamond ring is nice, but it's been done millions of times, so, in a n effort to be more original, a Chinese man decided to pop the big question to his sweetheart with a different kind of rock – a 33-tonne "meteorite".
Liu Fei, a young man from Urumqi, China, recently made national headlines after proposing to his girlfriend with a large boulder that he claimed was a "33-tonne meteorite". On March 14, Liu took his beloved to a public square, where he got down on one knee in a heart made of rose petals and asked her to marry him. As soon as she answered "yes", a couple of the man's friends unveiled a strange boulder strategically placed in the middle of the square. Apparently, this wasn't just any rock, but a meteorite that Liu had bought for 1 million yuan ($145,000), money he had originally saved for a new apartment.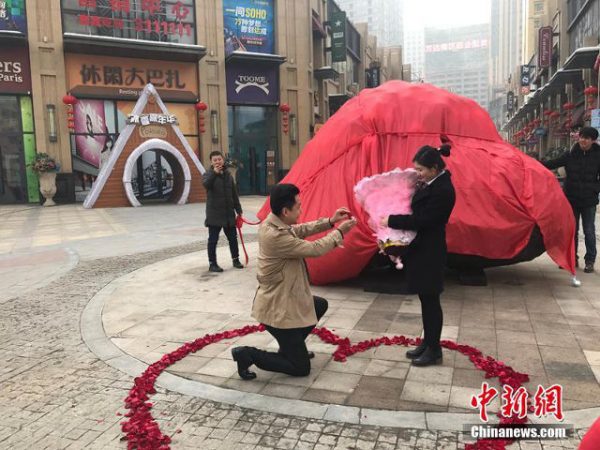 But one doesn't just spend a small fortune on a meteorite for a marriage proposal on a whim. Liu Fei had been planning this for a year, ever since he and his future wife saw the meteorite for the first time. Last year, Liu and his girlfriend traveled to the ancient city of Kashgar, where they learned that a local collector was in the possession of an impressive 33-tonne meteorite. His girlfriend wasn't particularly excited by the idea of seeing the space rock first hand, but she went with him anyway.
As soon as Liu saw the rock, he fell in love with it, and when he asked his girlfriend if she liked it too, she said "yes". He made a mental note of that, and a few months later, he contacted the owner of the alleged meteorite and bought it for 1 million yuan. He then had it shipped to Urumqi and placed in the square where he planned to propose, two days before the big event.
Asked why he opted for a meteorite, Liu Fei said that the space rock symbolized a stable and enduring marriage. As for how impressed his girlfriend was with his gesture, that remains a mystery, as is her reaction to the news that he squandered his savings for an apartment on a giant rock.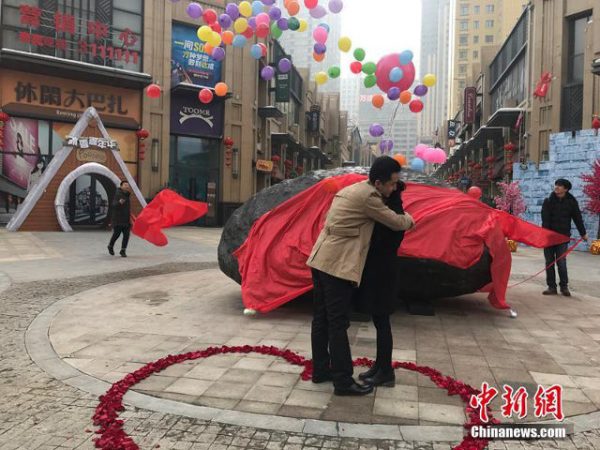 News of Liu Fei's unconventional wedding proposal went viral on Chinese social media, but while most people were impressed with his gesture, they were also skeptical of the meteorite. For one thing, according to Space.com, the two largest meteorites found in China so far weighed between 28 tonnes and 25 tonnes, so this would make Liu's the largest one in history. Then there is the price he paid for it. While 1 million yuan ($145,000) may seem like a lot of money, it's pretty cheap for a giant meteorite.
"One million yuan for a 33-tonne meteorite? What a bargain … You could cut it into small pieces and sell each for the price of a diamond … Girl, he's a keeper!" one person commented on Sina Weibo, China's version of Twitter.
"The expression 'dumb as a rock' comes to mind," another person wrote.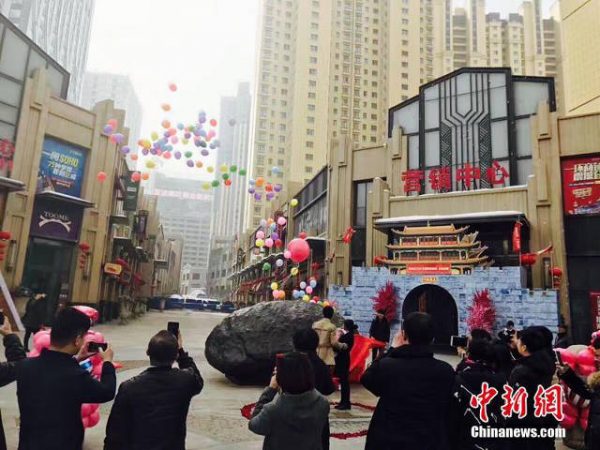 Other social media users wondered if the couple weren't worried about the radiation, and if they had space in their home for the unusual engagement gift.
Photos: China News
via SCMP