A restaurant in Shanghai, China, recently made headlines for employing two young crayfish peelers who do the dirty work right at the customers' tables, while they check social media or play mobile video games.
Wouldn't it be nice if someone could handle those nasty crayfish shells and then just hand you the succulent flesh?Well, at one particular restaurant in Shanghai's Huangpu district, you can actually request a crayfish peeler that will be glad to take care of the dirty work while you watch or chat with your friends or play on your smartphone. Crayfish are really popular in China these days, so the two young peelers usually handle around 100 crustaceans every day, which earns them a nice monthly salary of over 10,000 yuan ($1,500).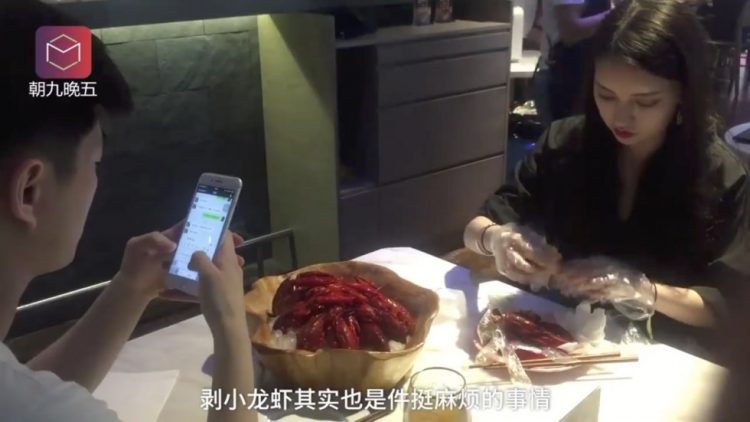 "Peeling crayfish is actually quite an annoying thing to do and your hands get dirty, so we have introduced professional crayfish peelers here," the restaurant owner said in a Pear video. "The customers need not stop, and they can still eat crayfish."
What does he mean by 'need not stop'? Well, here's the thing. This particular restaurant is apparently very popular among mobile video game fans, many of which gather here to play in teams. The problem is that popular games like King of Glory or Honor of Kings require both hands to play, and that doesn't leave any available for crayfish peeling. And that where the professional peelers come in.
He Nanxin, one of the two crayfish peelers at the restaurant, is a fourth-year university student majoring in fashion design. She and her colleague receive 15% of the peeling service charge, which apparently helps them earn five-figure salaries every month. She also likes that the job gives her the opportunity to interact with all kinds of people.
The young woman said that it took her only two days to learn how to properly peel crayfish.
Shanghaiist reports that this type of service became popular in 2015, after a former flight attendant started her own crab peeling service and starter advertising it on online marketplace Taobao.