Every year, dozens of teams from all over Japan travel to the Japanese town of Ito to compete in one of the world's most unique sporting events – All-Japan Pillow Fighting Championships.
Pillow fighting is an age-old pastime practiced by children of all ages all over the world. Japan is no different, only here the game has been elevated to the status of national sport, with teams made up of people of all ages competing against each other for fame and fortune. After first battling it out in regional qualifying events, winning teams meet up in the small fishing town of Ito, south of Tokyo, to compete in the All-Japan Pillow Fighting Championships, for the title of Japan's best pillow fighters.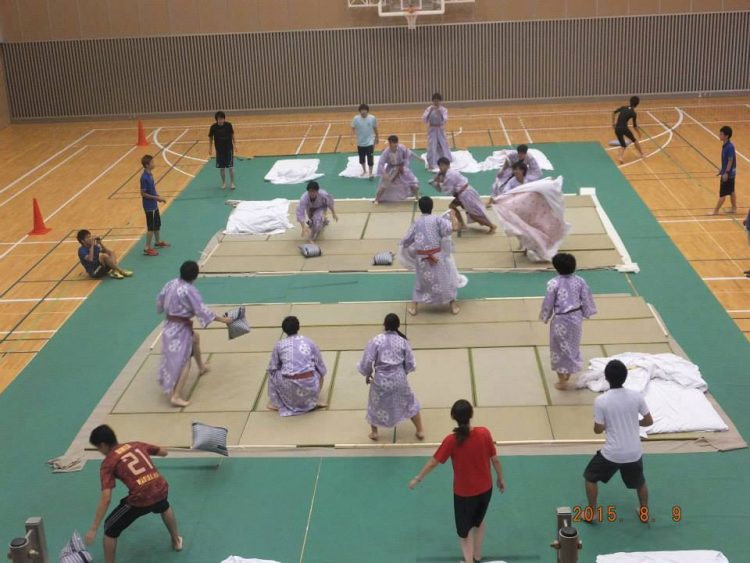 The All-Japan Pillow Fighting Championships were inspired by 枕投げ makura-nage, the fun pillow fights that Japanese students engage in before bedtime when out on school trips. It's a ritual experienced by many Japanese, and at some point during their early years, and one day some of them decided that it would be fun to relive those days as part of a competitive tournament. The tournament started in 2013 and has been held yearly ever since.
Started by a group of high school students in Shizuoka, competitive pillow fighting is based on a set of quirky yet relatively simple rules. A game is played between two teams of five players wearing yucatas, a traditional summer outfit, and starts with the players pretending to sleep on futons, until the referee blows their whistle, signaling them to get up and reach for a pillow.
From this point on, pillow fighting is somewhat similar to dodgeball, in that the goal is to hit the opposing team's players, preferably their captain, with pillows to send them out of the game. Still, it remains a very unique sport with unusual rules, such as shouting the phrase "The teacher is coming", thus forcing the opposing team to retreat to their futons for 10 seconds, allowing them to move around and fetch pillows from the other side of the court.
The ultimate goal in competitive pillow fighting is to hit the opposing captain. When that happens, even if all the opponents' players are still in the game, the round is over. The first team to win two two-minute rounds wins the game. To make sure the captain is protected throughout the rounds, one player on each team can use a duvet to protect them against pillows.
Back in 2014, a year after the All-Japan Pillow Fighting Championships made its debut, Japanese company Makura Kabushikigaisha released a special pillow designed to be used specifically for competitive pillow fighting, and it remains the only officially recognized pillow during the championships. It is priced at around 3,150 yen ($30), and it is reportedly perfectly balanced – heavy enough to throw and elastic enough not to cause any injuries.
Every February, the best competitive pillow fighting teams in Japan gather in the town of Ito for the national pillow fighting championship. They are made up of people of all ages, from nine-year-old kids, to veterans in their sixties, and while the 100,000 yen ($915) on the line doesn't sound like much, they are all in it to win.