A bank employee in India, who was recovering from the coronavirus disease wreaking havoc through his country, was allegedly denied leave and forced to come in to work while hooked up to an oxygen tank.
Arvind Kumar works as a manager at a Bokaro branch of Punjab National Bank, in the state of Jharkhand, recently showed up at his workplace with an oxygen mask over his face and dragging an oxygen tube. In a video that has since gone viral the middle-aged man can be heard saying that he was denied leave by his seniors, so he had to come to work, even though he was still recovering from a life-threatening condition. The video of Kumar leaning on his wife and his son dragging the oxygen tube have been doing the round online for over a week, sparking controversy on social media.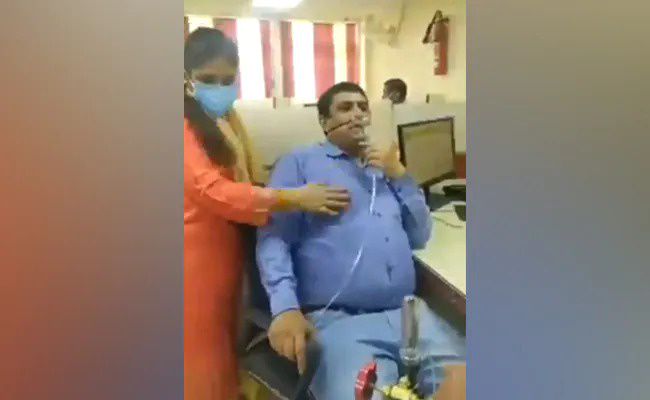 "The doctors have said that it will take three months for me to be fully recovered because the infection has spread to my lungs. Why am I being harassed?" Arvind Kumar reportedly told Livehindustan.
The bizarre incident allegedly took place on Tuesday, May 25th, at the Sector 4 Punjab National Bank in Bokaro. As you can imagine, the Indian bank has been dealing with a wave of criticism and outrage during a very critical time, as the Covid-19 pandemic continues to ravage India. However, the financial institution quickly went on the counter-attack, accusing Kumar of staging the whole thing.
According to a press release issued by PNB Bokaro Circle Office, Arvind Kumar set up the whole drama to defame bank officials as well as the bank. Apparently, the employee had submitted his resignation but it was rejected as a departmental inquiry is pending against him, concerning non-performing asset (NPA) loans.
बोकारो Punjab National Bank कर्मचारी अरविंद कुमार कुछ दिन पहले कोरोना से संक्रमित हो गए थे। ठीक होने के बाद उनके लंग्स में इंफेक्शन हो जाने की वजह से उन्हें ऑक्सीजन सपोर्ट में घर में ही इलाज चल रहा है। ऑक्सीजन सपोर्ट में रहने के बाद भी बैंक में काम करने के लिए बुलाया जाता है। pic.twitter.com/cVMnxKe7rb

— Haribansh Sharma (@Hariban84424968) May 26, 2021
"It is wrong to insinuate that he was asked by his superiors to report for duty despite his status as a recovering COVID patient. Paid leave is given to all eligible employees who contract the virus in the interest of such employees as well as others who are at risk. Thus it is baseless to suggest that he was forced to report for duty," the press release read.
Livehindustan reported that Kumar's family insisted that the bank had threatened to deduct his salary if he didn't come in to work, which forced him to show up on oxygen support, but mentioned nothing about the inquiry into his activities at the bank.