Do you think you could make do with just a Mason jar instead of your trash can? It's highly unlikely, but a Canadian woman has managed to do just that. After seeing the huge amount of plastic waste in her son's lunch, Tippi Thole decided to make a drastic change. While she already recycled and composted most of her trash, she knew that she could do much better.
Tippi and her son are now focused on living a more sustainable life in order to help the environment, and to that end, she has replaced their old 10-gallon trash can with a 5-inch Mason jar. You may think this means she's started to recycle more, but actually, the opposite is true.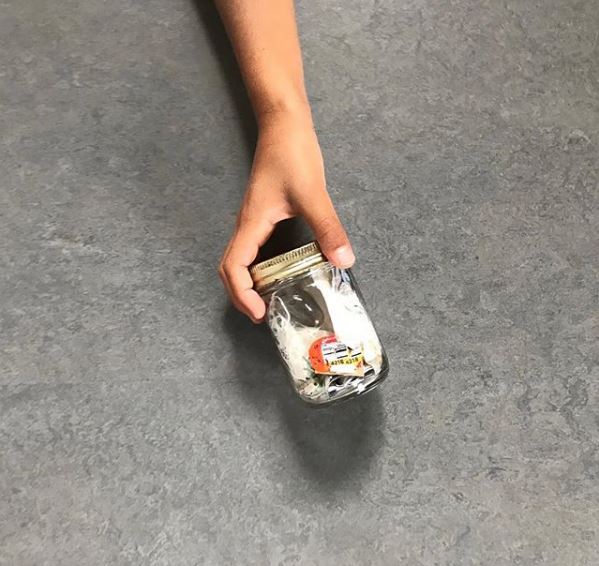 Photo: tiny.trash.can/Instagram
"I'm actually recycling less, a LOT less. That's because I avoid purchasing anything with packaging, especially plastic packaging," Thole said.
Tippi's experiment officially started at the beginning of this year. She and her son joined the Zero Waste Movement, a global organization that is committed to significantly reducing the amount of trash left behind in our society. The group advocates for things like avoiding the use of plastic or disposable containers. They bring their own containers when going shopping and are always looking to repurpose items rather than throw them away.
View this post on Instagram
According to Tippi, preparation is key to living a waste-free lifestyle. Whenever she leaves the house, she takes with her a "zero waste kit". The kit includes things like canvas bags for her groceries, reusable cutlery, and a Tupperware container. She also brings Mason jars with her to stores and fills them with products such as pasta and rice. Tippi buys her produce at farmers' markets because unlike at supermarkets, the items are not wrapped in plastic.
They have even converted their bathroom into a no-waste area. There is a bidet toilet attachment, so toilet paper is no longer necessary. Trippi even goes as far as making her own soap and toothpaste.
View this post on Instagram
In recent times, the use of plastic straws by establishments such as Starbucks and McDonald's has become controversial. Tippi advocates saying no to plastic straws and recommends that you carry your own reusable alternative with you.
Can one household really make a difference? While many detractors question the effectiveness of her waste reduction projects, Tippi hopes that her efforts will inspire others to eliminate more waste from their own lives.
View this post on Instagram
You can follow Tippi and her son's mission on their blog "The Tiny Trash Can" and on their Instagram page. Each week, Tippi posts what is in their trash can and tries to think of any ways that the waste could be avoided. Recent items in her mason jar trash can included used band aids, tape, and junk mail.