A couple that documents their family's outdoor activities and athletic achievement on social media recently landed in hot water for encouraging their 6-year-old son to complete a 26.2-mile running marathon.
Kami and Ben Crawford routinely share their family's athletic exploits with their tens of thousands of fans on YouTube and Instagram, but their latest challenge attracted more criticism than praise. Last week, the couple took to social media to post photos of their entire family running the Flying Pig marathon in Cincinatti. There doesn't seem to be anything wrong with that picture, except for the fact that their youngest son, Rainier, is only 6-years-old and the Flying Pig marathon is a whopping 26.2-mile run. The fact that he had to run for 8 hours and 35 minutes to finish the race was viewed by many as nothing less than torture for the young child.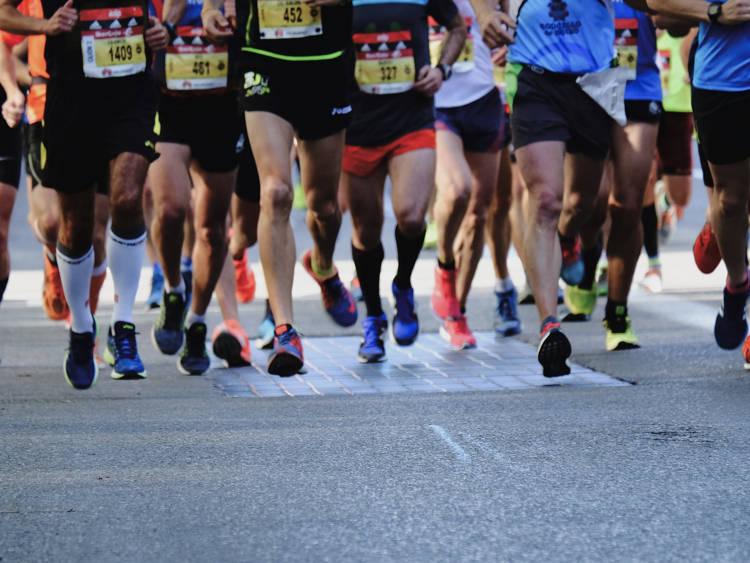 Photo: Miguel A. Amutio/Unsplash
"I don't know who needs to hear this but a six year old cannot fathom what a marathon will do to them physically," two-time Olympian and long-distance runner, Kara Goucher, tweeted. "A six year old does not understand what embracing misery is. A six year who is 'struggling physically' does not realize they have the right to stop and should."
Medical experts also explained that letting children as young as six compete in full marathons poses serious health risks, as their bodies aren't fully developed, making them ill-equipped to handle such significant physical stress. Symptoms like nausea, vomiting or heatstroke are also of concern, not to mention other consequences that may not be evident right now.
View this post on Instagram
The organizers of the Flying Pig Marathon also came under fire for allowing Rainier Crawford to compete in the race, despite the marathon's age limitation, which usually only lets runners 18 and older participate. Organizers admitted to knowing of the 6-year-old's participation and promised that the age restriction will be strictly enforced moving forward.
As for Kami and Ben Crawford, they insisted that they only allowed Rainier to compete in the marathon with them, because he begged them to do it.
View this post on Instagram
"We asked him numerous times if he wanted to stop and he was VERY clear that his preference was to continue," the Crawfords wrote in a social media post. "We did not see any sign of heat exhaustion or dehydration and honored his request to keep on going."
The above statement is being contested by some of the Crawfords' critics, as in another one pf their social media posts they revealed that their six-year-old son "was struggling physically and wanted to take a break and sit every three minutes."
"After 7 hours, we finally got to mile 20 and only to find an abandoned table and empty boxes. He was crying and we were moving slow so I told him I'd buy him two sleeves [of potato chips] if he kept moving," the post read. Rainier crossed the finish line after eight hours and 35 minutes of running.
"Child stopping every 3mins after 20 miles, crying and emotionally distressed. Parents bribing him to finish & he'll get Pringles," marathon runner Lee Troop tweeted. "Parents seeing no issue in allowing this to happen. Everything about this is wrong!"
Despite the widespread criticism, the Crawfords are continuing to defend their decision to allow their youngest son to compete in the Flying Pig Marathon.