Inspired by the Covid-19 pandemic, French artist Gaetan Marron has confined himself to a transparent, 4m² plexiglass cube located inside a Marseille shopping mall for 20 days.
Titled "Non-Essentiel", Gaetan Marron's art performance is all about highlighting various issues caused by the lockdowns tied to the spread of the SARS-CoV-2 virus, like the lack of human interaction, the lack of freedom, and the role of so-called non-essential activities like culture and art. Earlier this month, the Marseille-based artist locked himself in a small, transparent plastic cube located inside the local Les Docks Villages shopping center, for a period of 20 days. Passers-by can see him, they can talk to him, and, most importantly, they can donate to him, as Marron depends on donations from his visitors for food.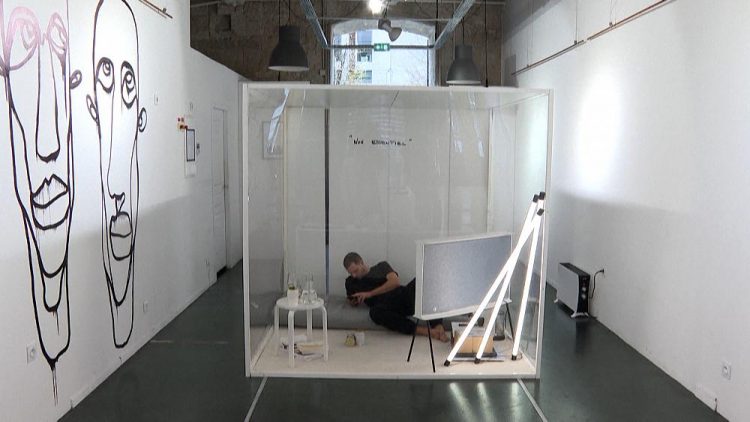 "I think that today culture, art, but especially culture in general, has clearly saved us during this lockdown. I think that without it, it would have been much more complicated," Marron said. "I have the feeling that today in these days we miss what is really the real human contact, what we call today social networks, whereas we have really lost social links in this period. And I think it's not insignificant if a lot of people don't feel really well, are depressed at the moment, it's because we really lost something from all this."
Gaetan's temporary home is equipped with a TV, coffee machine, tablet, and he passes the time by reading books and drawing, but the point of Non-Essentiel is to show that despite all the material comfort, the essential, human contact, is missing.
The artist has access to a sink located behind the plexiglass cube for drinking and cleaning, but no toilet. However, whenever he needs to go, he wants to justify his short absence to passers-by, so he writes derogatory certificates that he displays on the cube, for visitors to see.
"Non-essentiel" poses questions about this troubled, sad and overwhelming period. By confining myself of my own free will to a time of progressive deconfinement, I question our free will and the way in which we follow the rules as a society but especially as an individual, highlighting this ineptitude that is the voluntary deprivation of freedom, while inviting us to reflect," the artist described his performance.
Back in 2017, we wrote about Abraham Poincheval, another famous French performance artist who confined himself inside a giant stone for eight days.