Nosy, an wearable air filter you put on your nose, has been getting a lot of attention because it makes wearers look like they activated the dog nose filter in real-life.
Designed to protect against airborne particles, Nosy is a slick and compact air filter and purifier that fits on your nose. Its patent-pending dual filtration system (Activated Carbon and HEPA filters) allegedly break down  toxic gases from fossil fuel emissions and volatile organic compounds (VOCs), while at the same time from particles down to 0.03 microns in size, like pollen, dust, mold spores, smoke, and more. But all anyone seems to be talking about these days is how funny people look wearing it.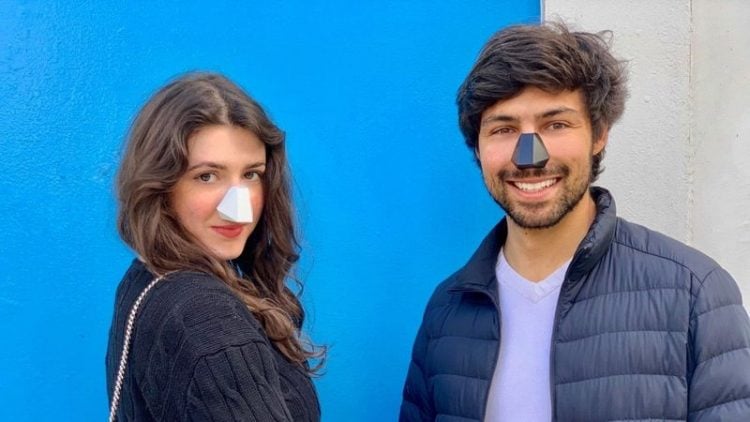 Photo: Nosy/Facebook
Nosy was unveiled in March of last year, when it managed to surpass its crowdfunding goal on Kickstarter. It was supposed to be delivered to backers by December of last year, but according to the latest official update, the Covid-19 pandemic has seriously impacted production. Nosy founder Carina Cunha wrote that she expects deliveries to be delayed until April 2021.
View this post on Instagram
So you'll have to wait to actually see people walking down the streets with Nosy filters on their noses, but you can have some fun with promotional pictures until that happens. Twitter has certainly been having a field day with them lately, because of how funny Nosy wearers look.
View this post on Instagram
"They should have made them cute and with whiskers…" one Twitter user wrote, in reference to the fact that Nosy filters look a lot like the digital animal nose filters apps like Instagram, Snapchat or Facebook offer.
"It should be a joke, but deep down we all know with a depressing certainty that it isn't and worse people will buy them," someone else commented.
Meet "Nosy," it will make you look like a but comes with a HEPA -'High efficiency particulate air [filter]'

— . (@bidishalolo) March 5, 2021
Someone even compared Nosy wearers with Pennyworth villain, Lord James Harwood.
But to the team behind the project, Nosy is no joke. They set out to create a product that not only protects the wearer against the harmful effects of pollution, but is also a more efficient and comfortable alternative to face masks of all kinds.
View this post on Instagram
"Our belief is that wearing a Nosy should be as comfortable as possible so we created a solution that provides you with the most effective filtration and the best user experience," the official Nosy presentation reads. "Our malleable clip allows a custom fit for each nose!  The clip attaches to the outer shell using a magnetic attachment system, ensuring that Nosy will stay in place even when you are doing vigorous activity!"
View this post on Instagram
Nosy filters last up to 100 hours, but for hygienic reasons the company recommends that you change them at least once a week.
View this post on Instagram
In case you're wondering how Cunha and her team came up with the design of the Nosy nose filter, you may already know the answer, if you're a Tesla fan. Apparently, the clean lines and angular corners of the futuristic Tesla Cybertruck prototype were a big influence, and its creators think the design will help Nosy stand the test of time.
View this post on Instagram
"Nosy is the fashion accessory of the future and you are one of the first people in the world to have access it. Who knows, maybe in 20 years your Nosy will be a collector's item…" the company's Kickstarter description mentions.
Yeah, who knows, but for now it's inspiring joke and memes on the internet.