Sick of listening to women constantly complain about having to wear high heels, one man challenged himself to wear high heels for a whole day to prove "that girls are huge complainers." It didn't go exactly as he planned…
As any woman will tell you, high heels can make your legs look sexy, but wearing them for long periods of time is no picnic on your feet. Even single-sole pumps and platforms will prove painful if you stand or walk in them long enough, but Brandon Cohen, a video correspondent with BroBible.com, actually went for the worst possible option – full-fledged stilettos. He meant to spend a whole day in them, doing all kinds of activities to prove his point, but only managed to keep them on from 8:30 a.m. to 7:15 p.m, most of which he spent sitting, because he couldn't stand anymore.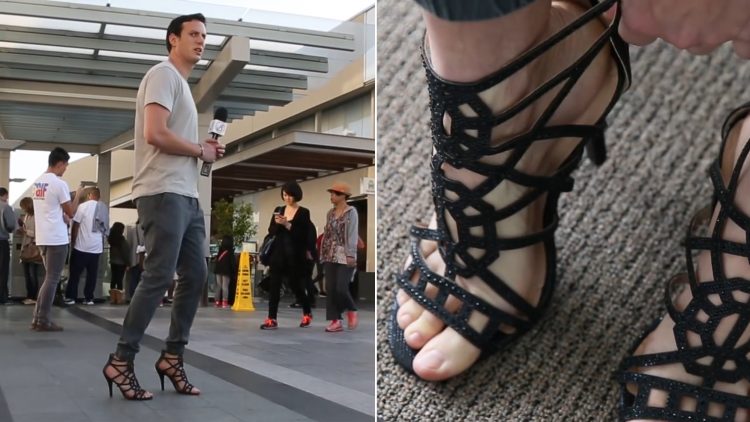 Soon after he puts on the stilettos, Cohen can be heard saying "I'm already in so much pain it's astounding," in the video that has been doing the rounds online for a few days. He can also be seen trying to use the stairs, parade through shopping malls and on the street, before eventually giving up to go home and take an Advil for the pain. "I want to kill everybody," Brian says at one point.
As it often the case with such semi-humiliating weird experiences, the story was covered by a lot of media outlets, including Inside Edition, whose producers had Cohen parading around Columbus Circle in Manhattan in gold high heels even higher than the ones in his original video. They also asked him about the degree of pain he was actually in on that day.
The pain was amazing, he said. "It wasn't so much my feet as much as it was the muscles in my entire leg," he clarified. "My calves are probably what hurt the most." The next day wasn't better either: "I'm not someone who does a ton of exercise. The next day, every time I sat down I looked like I was handicapped. I spent a lot of time foam rolling and stretching."
The BroBible video ends with Brian getting home and throwing his stilettos out the window, but it doesn't clarify if he now has new-found respect for women wearing high heels, or is just dumbfounded as to why they voluntarily go through such pain.
Sources: Daily Caller, TODAY