Sylvain, a heavily tattooed school teacher from Essonne, in France, risks losing his job, because some parents don't approve of his full-body tattoo, which includes his face.
The 35-year-old teacher, who goes by Freaky Hoody on social media, recently went on French television channel BFM TV to complain about the threat of losing his job strictly based on his appearance. He claims that his superiors have asked him to no longer teach kindergarten children, after receiving complaints from parents regarding his unconventional looks. Apparently, these people don't even have children in the classes he teaches, but they have an issue with his tattoos, which cover the vast majority of his body, including his face, and even his eyeballs.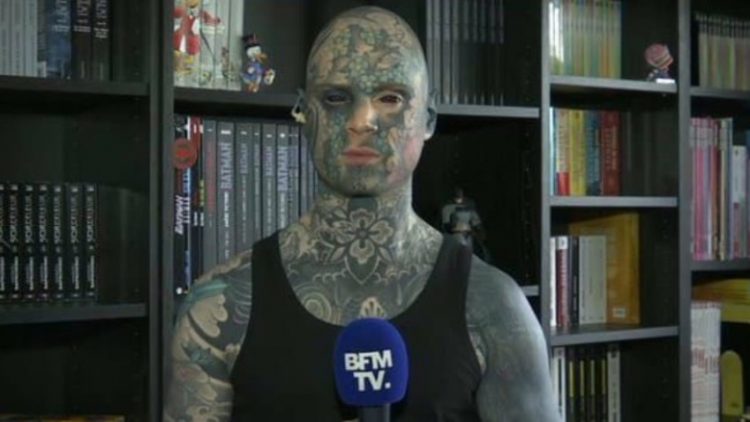 Photo: BFM TV screengrab
"[My appearance] is a problem for some people, but very few, it's like one parent in 1000, and they are parents of children that are not even in my class," Sylvain said. "With the parents of the children in my class, everything is going well."
View this post on Instagram
The heavily tattooed teacher said that he is no longer allowed to teach at kindergarten, because the member of L'Education Nationale don't want to deal with parents' complaints anymore. He adds that his tattoos have no effect on his teaching abilities, and that he has always done his job to the best of his abilities. Still, there are those who believe that he has no place in the education system, especially around very young children, and at least some of his students admit that they found him scary-looking at first.
"The depths of his tattooed eyes scared me at first," one girl said. "But my parents rather encouraged me not to be afraid anymore, and now I'm not afraid anymore, he's even almost my favorite teacher."
View this post on Instagram
Freaky Hoody's unique situation has sparked a heated debate on French social media this week, with some users claiming that his abilities as a teacher are the only thing that matters, and others saying that his appearance makes him inadmissible among small children.