Imagine going to sleep after a day of heavy snowfall and waking up the next morning to find that all that white snow has turned black overnight. That's exactly what the people of Kiselevsk and Prokopyevsk, two cities in Russia's Kuzbass region experienced earlier this week.
Photos and videos recently shared on social media by worried citizens of the two Russian cities show the grim reality of living in a coal mining area – snow covered fields and streets blanketed by a thick layer of coal dust and soot that literally turns the snow from white to pitch black.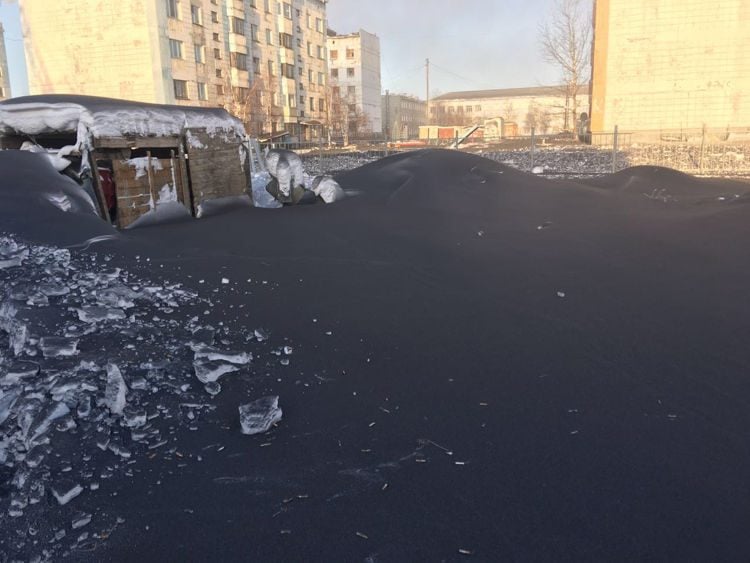 Photo: VK
We've all seen dirty snow in urban areas before, but the black snow in Kiselevsk and Prokopyevsk is a rare and disturbing sight that has locals concerned about the air they breathe every day. Many of them have taken to social media to voice their concerns and pressure authorities into taking action against the nearby coal processing plants, but local officials claim that the problem is complex.
View this post on Instagram
Andrey Panov, Deputy Governor of the Kemerovo Region for Industry, Transport and Ecology, told reporters that because the development of gas networks in the region has never been particularly supported most buildings still rely on coal boilers for heating, so private households and local businesses all contribute to the heavy pollution. Vehicle exhaust fumes are also to blame, Panov adds.
Anatoly Volkov, the general director of the Prokopievskaya coal plant near Prokopyevsk, told a local television channel that his company uses special shutters that protect the nearby city from hazardous compounds, but it's hard to believe that the plant is not at all responsible for the blackening of the snow.
View this post on Instagram
A team of inspectors from Russia's environmental agency has been dispatched to the two coal processing plants to investigate whether the pollution limit was exceeded, and local officials have announced a meeting with coal mining companies to discuss environmental issues.
View this post on Instagram
Interestingly, while most of those commenting on the photos and videos of black snow in Kiselevsk and Prokopyevsk, criticized the Government for the situation, some actually described the phenomenon as strangely beautiful.