An Indian plastic surgeon is being praised as a hero without a cape after spending much of his life performing over 37,000 free procedures to correct children's cleft palates and cleft lips.
According to the CDC, cleft lip and cleft palate are birth defects that occur when a baby's lip or mouth do not form properly during pregnancy. These defects cause a variety of problems, which range from the inability to access milk as babies, to bullying and discrimination later on in life. Both birth defects can be corrected with the help of plastic surgery, but these procedures are, unfortunately, not available to the poor families who need them most. In India, one plastic surgeon has emerged as the benefactor of tens of thousands of babies and children, correcting their cleft lips or cleft palate for free, and thus giving them the chance at a much better life.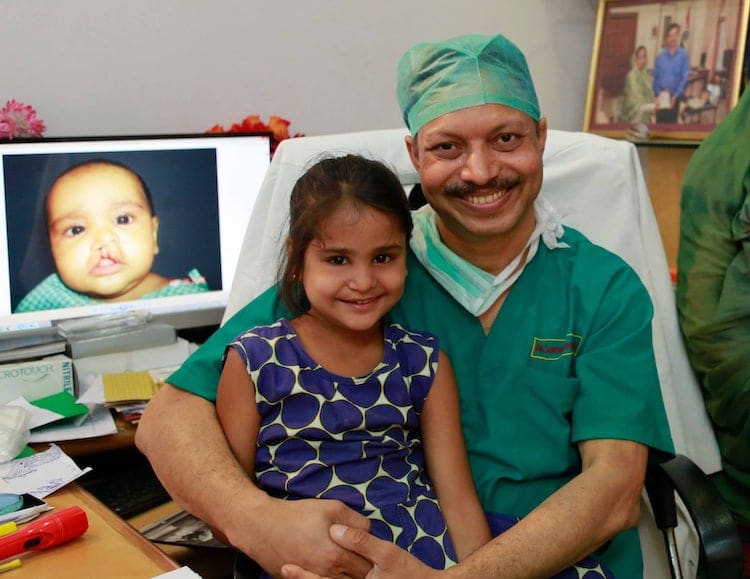 Photo: Facebook
Born into a humble family in Varanasi, in India's Uttar Pradesh state, Dr. Subodh Kumar Singh had to overcome adversity himself during his childhood, which inspired him to dedicate his career to helping the needy, rather than seeking financial gain. After losing his father, a railway clerk, when he was only 13-years-old, Subodh and his three older brothers had to provide for the family by selling homemade candles, soaps and goggles on streets and in local shops.
Subodh's brothers quit their education to support the family, but they made sure that he could continue his studies and fulfill his dream of becoming a doctor. Although he helped his sibling as much as he could, working several jobs while pursuing his education, Subodh Kumar Singh graduated from the Institute of Medical Sciences, completed his post-graduation in general surgery, and specialized in plastic surgery.
"My childhood gave me the strength to build resilience and develop an understanding for people who undergo a daily struggle," Dr. Singh told The Better India. "The hardships made me perceive their emotions and relate to them. Becoming a doctor put me in a position to help many. I wanted to make the lives of the less privileged people better."
Realizing that babies and children born with cleft lips and palates required help, the plastic surgeon started organizing free medical camps and helping as many sufferers as he could. His efforts were soon noticed by Smile Train, a global initiative focused on cleft surgery. With their support, and that of other NGOs, Dr. Singh could help even more people.
"These babies cannot access milk as required. Many die due to malnourishment and often have their growth stunted. The children find it difficult to use the tongue to speak, causing speech problems," Dr. Subodh Kumar Singh said of the conditions he corrects. "The children often drop out of school due to their speech or being bullied. They find it challenging to seek jobs or find acceptance. On many occasions, the mother is blamed, cursed and abandoned for conceiving a child with a cleft lip. It also has psychological effects on parents. But surgery can solve it all."
Ever since he started his pro bono journey 2004, Dr. Singh has performed over 37,000 procedures on both children and adults. With the help of Smile Train, he has also been able to train dozens of other doctors across India to correct these birth defects and hopes to one day be able to set up a national center for correcting cleft lip surgeries.
"I feel proud to have the power to change the lives of many," Dr. Subodh Kumar Singh said. One surgery positively impacts more than one family and the life of an individual. Nothing gives me more joy than to reunite the families who accept their daughter-in-law after the surgery and do not blame her for the deformity."
Dr. Singh's career is reminiscent of that of Nepalese eye doctor Sanduk Ruit, aka the God of Sight, who has single-handedly managed to restore the eyesight of over 100,000 people across two continents.