A Christian pastor has come under fire for claiming to miraculously shrink a woman's waist by two sizes through prayer during a live sermon.
There's a controversial video doing the rounds on Latin Twitter these days. It shows a Christian pastor speaking to an audience and asking an "overweight lady" to join him on stage. When a brave young woman decides to honor his request, the pastor asks her if she is a true believer, then tells her that "for those who truly believe, anything is possible".  The pastor tells the woman to raise her hands and asks God to shrink her waist by two sizes. A woman is called to touch the woman's abdomen, and the pastor orders two sizes off the woman's waist, declaring a miracle…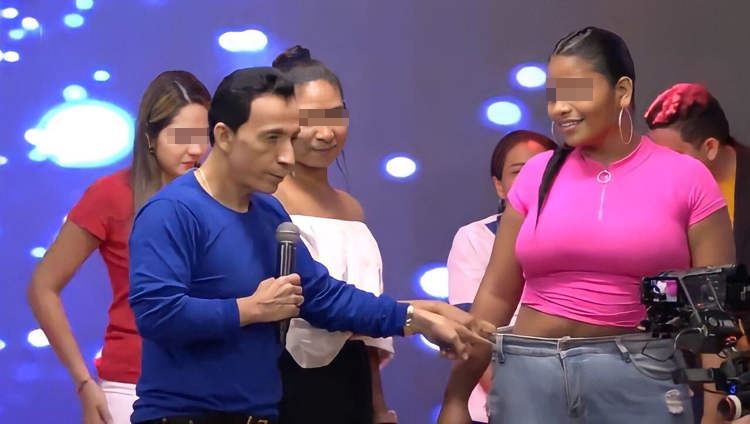 As if commanding fat off a person's waist wasn't impressive enough, the pastor can be heard raising the stakes by assuring her that following this miracle, people won't be able to recognize her by the end of the year, and she will also find a new, better job.
Following a round of applause from the audience, the pastor calls a woman to check the subject's pants, and, lo and behold, they seem looser than before. Asked to confirm that her waist did in fact shrink, the woman says that her pants "used to fit", and even shows the audience how looser the jeans are following the miracle. The pastor, of course, basks in the applause of his congregation.
As you can imagine, Twitter has been having a field day with this clip. One account that shared the footage declared "the end of gyms and diets", while other Twitter users asked if the good pastor could help them shed a bit more than 2 pants sizes. Those who didn't find the video funny criticized the Christian pastor for using tricks to declare a miracle and described his theatrics as shameful.
Interestingly, this kind of "miracle" is apparently quite popular among pastors, and there are several clips of several such acts being performed in front of gullible believers on the internet.
In the past, we've seen African pastors sinking to abysmal levels of trickery to fool people into believing they were capable of miracles, but apparently things are not much better anywhere else.