In 2016, Arshad Khan was a "chaiwala" (tea maker) on the streets of Islamabad, in Pakistan, but then he looked into a stranger's camera at exactly the right moment and that photo catapulted him to stardom.
Arshad's family has been making tea in Islamabad for almost 30 years, but he had only joined their stall for a few months when professional photographer Javeria Ali spotted him, in September of 2016. Somehow, the young chaiwala managed to look into Ali's camera at just the right moment to have his striking blue eyes forever immortalised in a photo that has been shared online ever since. Hours after the pic was shared on Twitter, it went viral, and everyone started asking about the handsome chaiwala.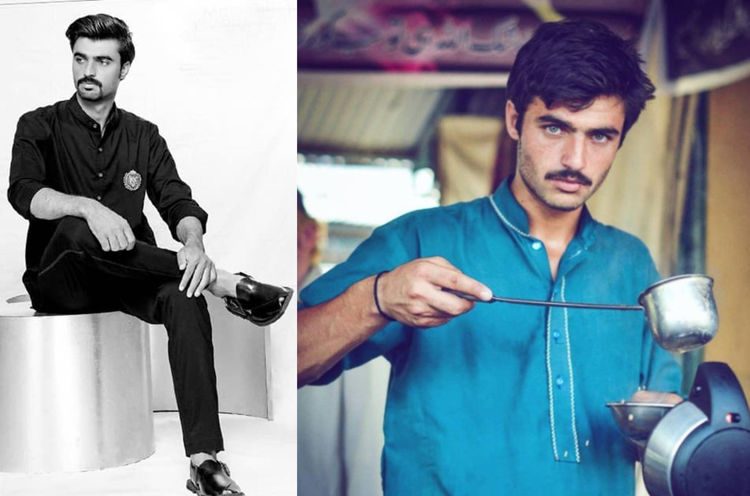 Chaiwalas have been a part of Pakistani culture for centuries, but in the fall of 2016 the term became synonymous with Arshad Khan. It was as if he was the one and only chaiwala, websites and newspapers scurried Islamabad's bazaar for him, the hashtag #ChaiWala was trending on Twitter, and companies wanted him to promote their products. Days after that iconic photo of him went viral, Arshad, who was 17 at the time, appeared as a model for a Pakistani clothing brand. But that was just the beginning.
View this post on Instagram
"I didn't know that my looks were out of the ordinary," Arshad said in 2016. "I think all Pashtun people are good-looking, so I didn't think of myself as being special. My older brother says he is much more handsome than me."
View this post on Instagram
Before 2016 was over, Arshad Khan had been on all the major variety shows in Pakistan, he had done several modelling gigs, and even appeared in the music video of famous Pakistani singer Muskan Jay, where he got a bit too close to the female artist. That didn't sit too well with his conservative family, and after declaring himself overwhelmed by all the attention, the famous chaiwala took a break from life in the limelight.
View this post on Instagram
With his sudden disappearance from the spotlight came rumors that his family had forbidden him from working in the entertainment industry, but in 2017 his new manager, Kazim Hasan, explained that things were a bit complicated. His family had indeed been upset about certain aspects of his new-found fame, but he had also been overwhelmed by all the attention, and his former managers hadn't had his best interests in mind…
View this post on Instagram
Arshad's 18th birthday in 2017 marked his return, and although it didn't have the same impact as his discovery, it proved that he was still in demand. He started doing modelling gigs again, became the face Pehchan Mall, a popular shopping destination in Islamabad, and in 2018 he started shooting a TV and internet series called Chaiwala & Friends, which also stars Ali Fateh, Malik Aqeel and TV host and actor Mariam Salman.
View this post on Instagram
In September 2019 the handsome chaiwala appeared on a TV show to announce that despite having a modelling and acting career, he had returned to making chai again and planned to open his own cafe. In the meantime he is keeping busy on social media, especially Instagram.
Like the story of street beggar Rita Gaviota, Arshad Khan's rise from a simple chaiwala to internationally-recognized icon has become a classic example of a true rags to riches tale.