Mexican influencer Lore Garza caused quite the controversy online last week when she announced that the winner of the brand new KIA SUV she was raffling was her own mother…
Lore Garza, a popular Mexican social media personality with over 140,000 fans on Instagram alone, has been getting a lot of attention from news outlets over the past couple of weeks because of her latest attempt of "giving back" to her fans. In one of her most daring promotional efforts yet, Garza announced a raffle for a brand new KIA SUV. Anyone could enter for a chance to win, as long as they bought one or more tickets worth 350 pesos ($17). The raffle generated a lot of interest, so a lot of people tuned in to see who won the car, only to be left with their mouths opened when it was announced that Lore Garza's own mother was the winner…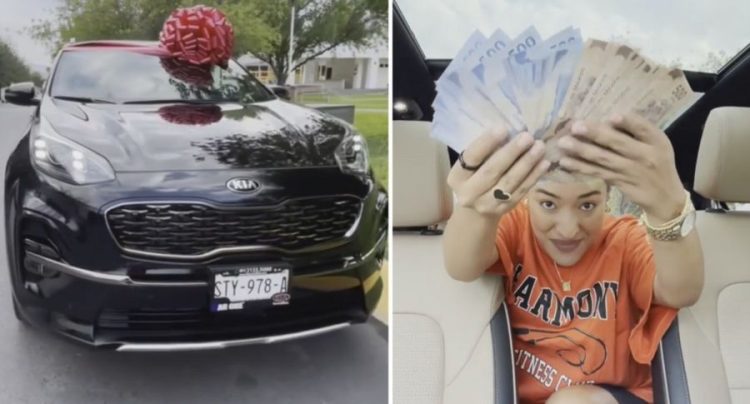 Photo: Lore Garza/Instagram
There's no doubt that this whole situation is very suspicious. Of all the people who could have won, it was the raffle organizer's mother. What are the odds of that happening? As you can imagine, Lore Garza's fans were not happy when the announcement was made, on October 26. However, the influencer tried her best to manage the situation and convince everyone that her mother was just incredibly lucky…
View this post on Instagram
In an Instagram video that has since gone viral, Lore Garza's team are all glued to the screens of their laptops as the winning numbers are being announced. As the number is being verified, people in the room start growing crazy, and Lore – who is filming the whole thing – can be heard saying "it can't be". The reason everyone is losing their minds is that the influencer's mother has apparently won the raffle.
View this post on Instagram
Facing criticism from her own community, Garza explained that the raffle process was transparent and objective. To ensure that there was no suspicion of foul play, the raffle was organized in conjunction with the Mexican National Lottery. The winning lottery numbers would also determine the winner of her raffle, and, apparently, her mother just guessed right.
View this post on Instagram
"It's something that I can't control, I don't know who is going to win," the influencer explained, adding that she has documents proving that the winning ticket was purchased on October 21, while the National Lottery extracted the winning number on October 26.
View this post on Instagram
In a video posted after the controversial raffle ended, Lore Garza portrays herself as a victim of "cancel culture", claiming that some people just want to see her fail. The influencer said that even if the winner had been a neighbor, a partner or even a classmate of hers, the reaction would have been the same. She also emphasized that, had she wanted to fix the raffle, she would have chosen someone a lot less obvious than her own mother.
View this post on Instagram
Although Lore Garza's explanations managed to appease her most loyal fans, there were plenty of others who were left unconvinced, especially since she was reportedly supposed to give away prizes of 50,000 pesos to five lucky fans, which apparently never happened.
View this post on Instagram
Asked how she would proceed following the controversial raffle result, Lore Garza said she was considering buying another truck for her mother and running the raffle again, but she was most certainly not going to give the SUV to a person who did not win "because that would be unfair."