Five years ago, a compassionate Shanghai policeman took on the role of son to help comfort an elderly couple he had never met before. They had lost their own son in a tragic accident 15 years ago, and the policeman's similar appearance helped comfort them.
In 2003, Liang Qiaoying and her son, Liang Yu, from North China's Shanxi province, were exposed to poison gas, during a freak accident. The woman survived, but her young son did not. Liang, a former schoolteacher, was left paralyzed and mentally impaired following the accident, and her husband, Xia Zhanhai, could not bear to tell her the truth about their son. Instead, whenever his wife asked to see Liang Yu, he kept saying that he had gone to work in another city.
In 2010, while watching a television show about police work in Shanghai, Xia Zhanhai was stunned to see an officer that looked just like his deceased son. He immediately knew that the young man was the answer to making his wife smile again, but he had know idea how to get in touch with him. He hadn't caught his name, and all he had to go by was that he was stationed in Pudong, 1,500 km away. But that wasn't going to stop him.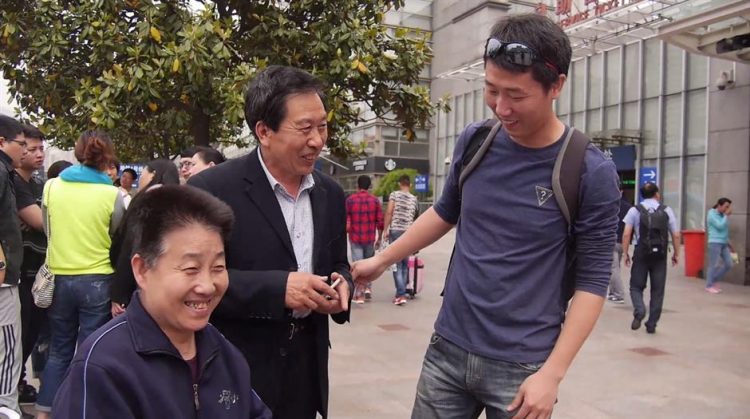 Photo: Shine
Desperate to find the mysterious officer who looked so much like his son, Xia went on a television show in Shanxi to appeal for information on the man he had seen on TV that one time. He was unable to discover any leads worth investigating, but, in 2013 a reality show from a television station in neighboring Hangzhou somehow discovered Xia's touching appeal and decided to follow up on his story. With the help of Shanghai Police, they were finally able to identify and locate the officer, a man named Jiang Jingwei
"He is the spitting image of my son," Xia said on Pear Video, a popular Chinese video-sharing website.
When Jiang heard Xia's tragic story, he agreed to meet the family on the TV show. As a married parent himself, Jiang was touched by their loss and grief, and told reporters that he was "more than willing" to pretend he was Liang Yu. His only reservation was addressing someone other than his own mother as "mum" on television.
"I had to consider the feelings of my own parents. So I was reluctant to call another woman, 'mum,'" Jiang told China Daily. "My mother was against the idea at the beginning, but we later all agreed that if it was a necessity, I would do it."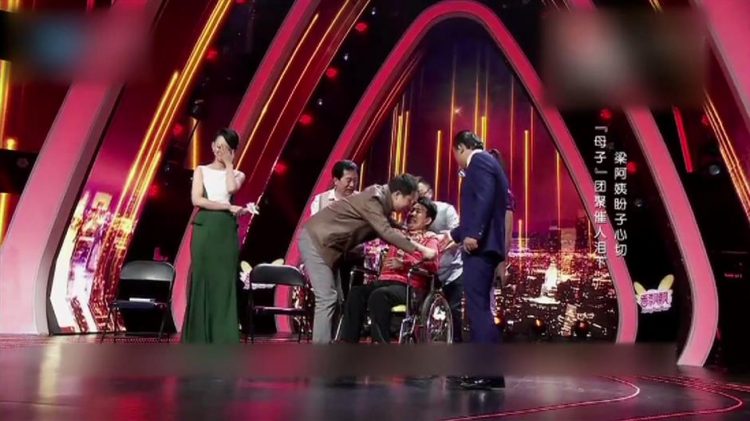 Photo: Shine
The host of the TV program explained to Liang Qiaoying that "her son had been working far from home for so many years that his accent had changed significantly, to avoid doubts about his real identity. Additionally, they told her that he was working for a special security unit which prevented him from visiting home more often, and that he was forbidden to speak her native Shanxi dialect because of the nature of his job.
When they were "reunited" on the show, both Xia, and Liang burst into tears at the sight of Jiang. Even though he hardly knew them, the kindhearted police officer was also moved to tears as he bent down to hug her. The whole thing lasted just a few minutes, but had great impact on the sick, wheelchair-bound woman.
"The night after the show, she slept like a baby for more than eight hours," Xia said in an interview with Shine. "Previously, she had so much trouble sleeping."
The televised "reunion" happened five years ago, but the relationship between the couple and Jiang has endured. They visited him in Shanghai last May, they stay in contact by phone and video calls and the officer sends them gifts periodically. Xia said that Liang's health has dramatically improved since meeting Jiang and being able to talk to her son more often.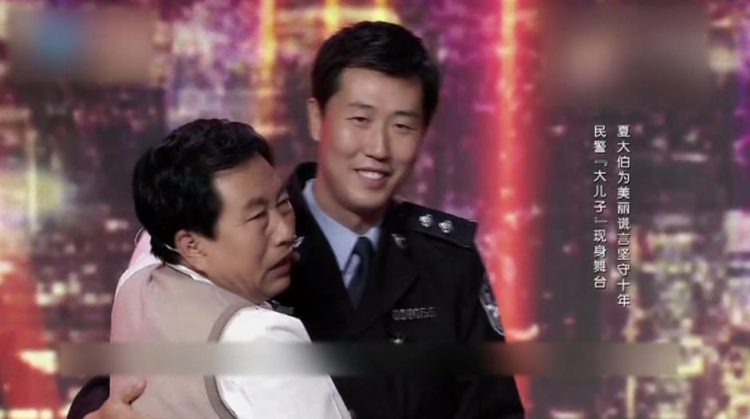 Photo: Shine
"Although he lives in Shanghai and I'm in Shanxi, our hearts stay together, and I consider him my son," Xia added.
"I will always be there for them," Jiang told Shine.