Jordan Kosovich developed leukemia when he was just seven years old. He battled the disease for the next four years, and even though he eventually beat it, the experience took a heavy toll on his social life. Now, the 19-year-old is so desperate to find some friends that he advertised for them on a classifieds website.
The Australian teen from Perth says that leukemia robbed him of a normal childhood. He was forced to quit school for two years until the end of Year 3, while undergoing hellish chemotherapy treatment. When he was finally able to return to school, he became the target of bullies, as the drugs he had taken made him overweight. He describes the whole school experience as "hell" and claims that he wouldn't go back to it for all the money in the world.
"It's the worst thing to have happen to you because the drugs they give you are so strong you lose all your hair, and you get really overweight because one of them makes you eat a lot," Jordan said. "I was too weak to defend myself, being overweight due to the cancer, plus I was a really shy, quiet kid which made me the perfect target."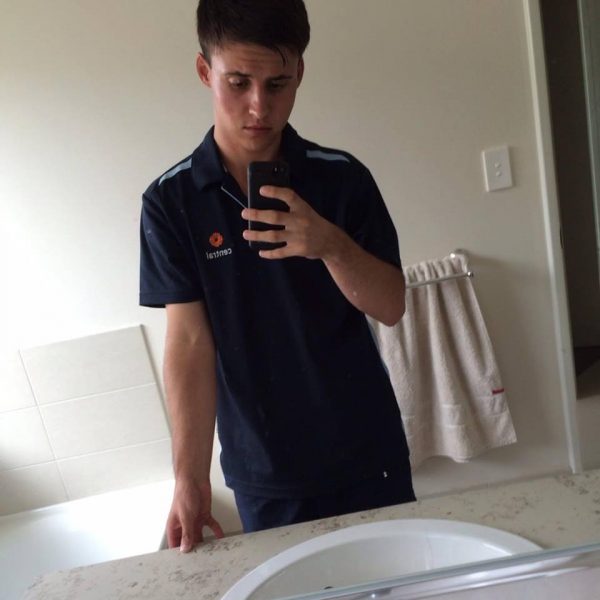 Photo: Jordan Kosovich/Facebook
Just when he tough it couldn't get worse, he went to high-school, and that was 100 times worse than what he had suffered before. People quickly found out that he didn't have any friends, and he got physically and verbally abused. The bullying followed him online, and at one point got so worse that Jordan was afraid to access his Facebook account.
Life became easier for the cancer survivor after he left school but he still found it difficult to make friends, because most people already had their own circle. "I made a few friends but not close ones so I rarely see them," Jordan told Daily Mail. "I have tried to get to know people outside of the environment where I have met them, but when I have tried to, they just haven't given me a chance when I just wanted to be friends with them."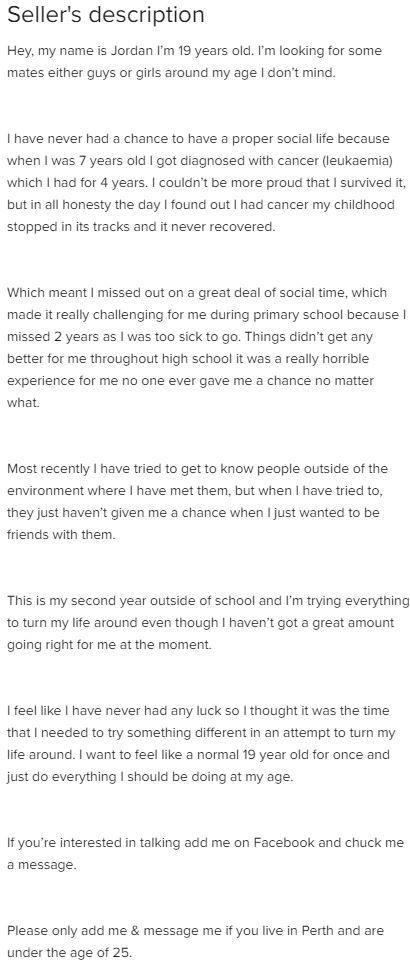 Photo: Gumtree
Constantly looking for ways to make friends, Jordan Kosovich was inspired by the story of 72-year-old Ray Johnstone who took to classifieds site Gumtree to find a fishing buddy. He decided to go the same route and posted an ad on the popular website asking people to contact him if they wanted to become friends.
"I wanted to feel like a normal 19-year-old for once and just do everything I should be doing at my age," the teen cancer survivor said. "I thought posting an ad was a crazy thing to do, but I was really struggling and just thought to try something different, and it's worked."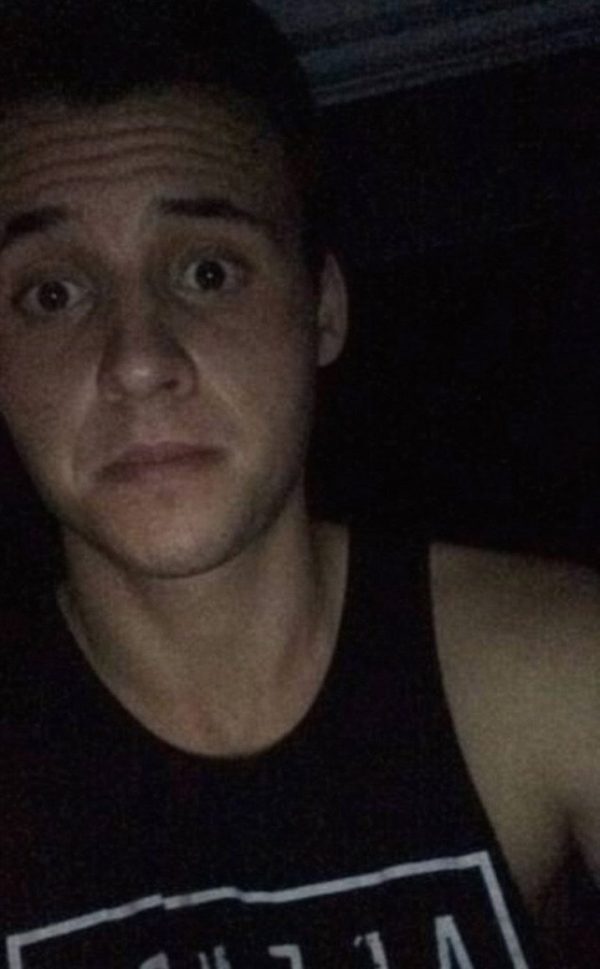 Photo: Jordan Kosovich/Facebook
Jordan's story went viral online, and his ad got thousands of views after being shared on social media. He got hundreds of friend requests on Facebook, but apparently most were from girls. "I'm still talking to a few people, but I could use more guy mates because I love cricket and footy and going to the gym," he said.
It's a good start, though, and hopefully he can make a few close friends and make up for all the lost time. He definitely deserves a break.