Vending machines are very popular in Asia, with businesses using them to sell just about anything, even live crabs. However, one Honk Kong entrepreneur has found a way to take vending machines to a whole new level, by designing one that sells dates to singles looking for a low-tech alternative to online dating services like Tinder.
The "Fate Capsule" vending machine outside BT Reptile, a small pet store in Kowloon's Shek Kip Mei neighborhood, received worldwide attention earlier this year, when word of the original concept went viral online. It's basically a multi-tiered vending machine with separate compartments for men and women which dispenses colored plastic capsules containing the contact details of singles looking for love. All you have to do is insert HK$20 ($2.5) in coins, and it will spit out a fate capsule with the description and contact information of a prospective date.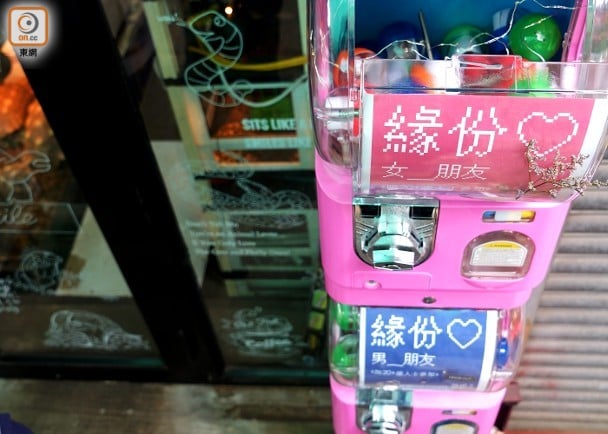 Photo: on.cc
The romantic vending machine was brought to Hong Kong by Ben Tang, the owner of BT Reptile, after originally seeing the same concept become popular in Taiwan. He is also the one who, along with his girlfriend, spends up to five hours vetting people who want their details added into the fate capsules. Such candidates can leave their information – name, age, height, weight, hobbies, and a short self-introduction – in a Google document, the link to which is on his Facebook page, and he will then contact them on WeChat to verify that they are who they claim to be and to make sure "they don't act too weirdly".
Tang launched the Fate Capsule vending machine just before Valentine's Day, and it soon became a huge hit. Local news stations started writing about it, videos of people trying their luck with fate capsules spread on social media, and soon, the owner had to limit the number of capsules sold per day, just to maintain the romantic character of his device.
"I can easily sell more than 1,000 capsules every single day if I want to," Ben Tang told Coconuts Hong Kong. "But I'd rather not. I like to see people come by casually when they are free; It feels more destined."
View this post on Instagram
Tang says that by controlling the number of fate capsules that the machine dispenses every day, and manually selecting whose contact information goes into the plastic capsules, he wants to slow down the speed of blind dating and increase people's chances of success.
If dozens of people add you in one day, you will feel nothing but disturbed. But I want them to have enough time to really know each other," he said. "When people start to use dating apps, the first impression they will probably have is like, 'wow that's too much'. There's really no time to know each person you meet well enough to consider dating."
While the popularity of the Fate Capsule vending machine is undeniable, it also has its share of critics. Several people have taken to Facebook, leaving poor reviews and describing it as a 'fraud', arguing that dates either never accepted their friendship request on WeChat or cut off contact abruptly. Obviously, this isn't something Bent Tang can control and I feel it's a risk that comes with the territory.
However, the reliability of the service isn't the only thing people have been complaining about. Privacy issues have been raised as well after people's private contact information was blatantly shared on sites like YouTube.
But the controversy seems to have only boosted the success of the Fate Capsule, so much so that other entrepreneurs in Hong Kong have already launched copies of it. Tang isn't too concerned about that though.
"I am the first one to bring capsule toy dating to Hong Kong. I've built my brand now. Of course there will be people stirring things up. I see this as a potential business opportunity," the owner of BT Reptile said.
While the good old vending machine is unlikely to ever challenge the supremacy of popular online dating apps like Tinder, it's clear that some people consider the Fate Capsule idea a cute and far more romantic alternative.