British comedian John Finnemore put his time in quarantine to good use, becoming only the third person to solve "Cain's Jawbone", a super-tough literary puzzle, in its near 90-year history.
Created in 1934, by Edward Powys Mathers, a pioneer of advanced cryptic crosswords, Cain's Jawbone is one of the most difficult puzzles ever created. It consists of 100 cards, each containing the page of a murder mystery novel, and challenges you to put the cards in the right order and figure out who kills who in the book. It might not sound so hard, but only two people have been able to solve it in the last 86 years. Well, until recently, when British comedian John Finnemore managed to do it, after working on it, on and off, for about four months.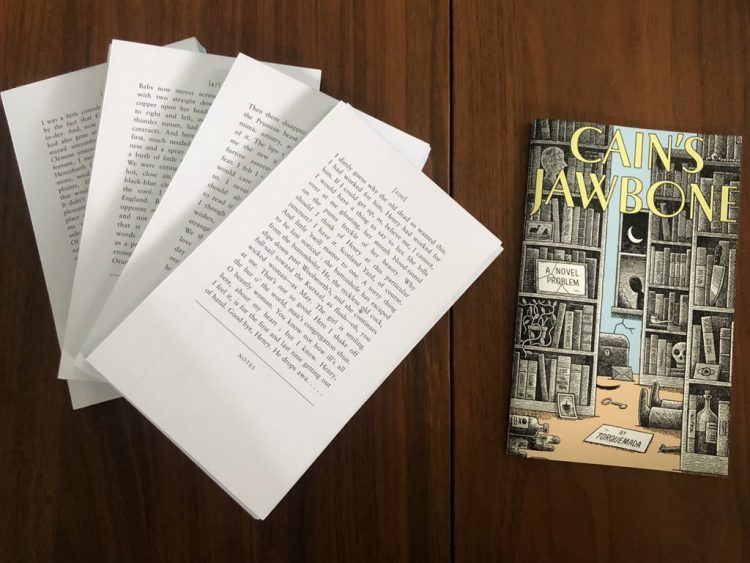 Photo: Twitter
"Originally I had a look at it and decided that it was too difficult for me and there was no point. So I just put it back on the shelf," Finnemore told Pri.org. "Then the pandemic came knocking…and suddenly said, 'You know all that time you wanted, to do that thing? Well, here you go, knock yourself out, you've got as much time as you want.'"
With 32 million possible combinations, finding the correct order of the cards and deciphering the mystery of Cain's Jawbone is quite a feat. Finnemore said that he spread the pieces out on a bed and started researching various references and laws from the early 1900s, which really helped. In fact, the comedian recommends that anyone taking up the puzzle use Google, as it's not something you can solve without the right information.
"It's full of really obscure references to literature and geography and all sorts of things…You need to know about licensing laws in 1930s London, like, where, in London, you were allowed to buy a drink without a sandwich and where you could only have one with food after 10," John Finnemore said.
View this post on Instagram
The history of prisons comes into it, geography…there's references to people who turn out to be tennis players in the 1930s and when they played a particular match. It's not something you can do without a little help from your internet friends," he added.
Back when Cain's Jawbone was first released, a reward of 25 pounds ($33) was offered to whoever could solve it, and that monetary reward was updated to 1,000 pounds ($1,335) last year, when British publisher Unbound reissued the puzzle. Finnemore became the first to claim it, but you can to, as long as you put in the work.
Finnemore and Shandy Hall curator Patrick Wildgust, who confirmed that the comedian had solved Caine's Jawbone, have agreed to keep the solution a "closely guarded secret, so the puzzle can be enjoyed by future generations".
View this post on Instagram
If tough puzzles are your thing, maybe you should take on the challenge of becoming the first person to decipher Kryptos, the coded sculpture that no one has been able to figure out.