Xavier Long, a 20-year-old man from Alabama, claims he is paid several thousands of dollars per week by men who want him to test their girlfriends' loyalty.
Long has been conducting so-called "loyalty tests" on behalf of men who allegedly ask him to flirt with their female partners via texts to see if they give in to his advances. His tests involve checking whether the client's partner can be trusted by sliding into their DMs, and reporting back any shady behavior. Apparently, there are a lot of insecure boyfriends out there, as Xavier has seen demand for his unusual service skyrocket and he now makes up to $2,000 a week from fees.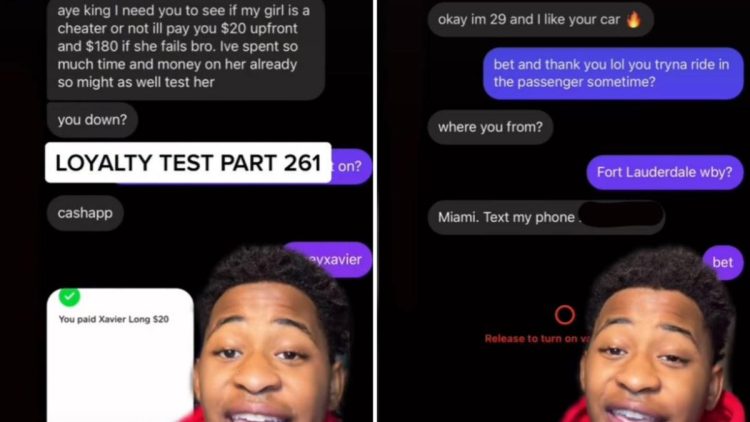 "I've made a pretty good amount. I don't have an exact number, but doing these tests has allowed me to stop working a nine-to-five," Xavier said. "It was the quickest and easiest way I've ever made money."
It all started when one of Xavier Long's TikTok followers randomly reached out to him, asking if he could test his girlfriend's faithfulness, and when his first loyalty test went viral, he knew he was on to something. At first, he did the tests for free, but then people started offering him money for it, and his service turned into a lucrative business.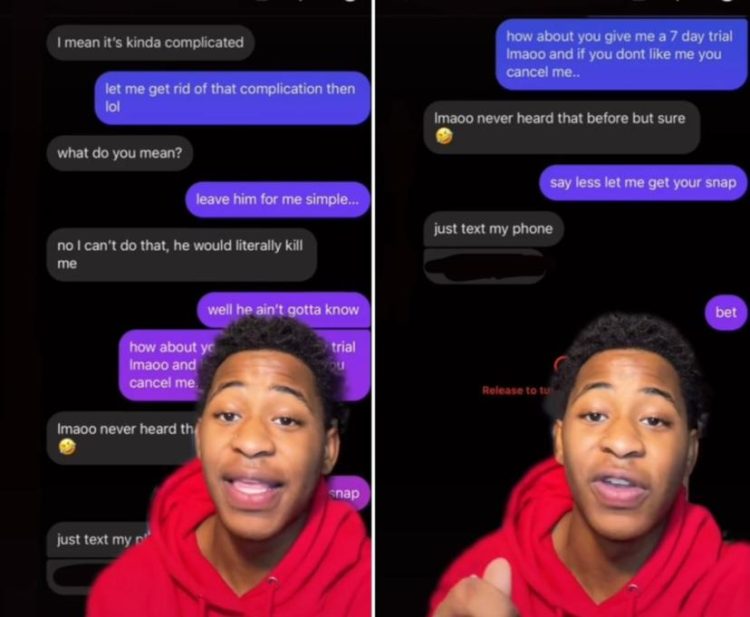 "If people ask, I say I charge $10, but most of the time people say, 'I got this amount of money, but if she fails, I'll send you this amount of money,'" the Alabama entrepreneur said. "Sometimes, I do the test for free, but with the number of DMs I get, why would I do one for free when people pay?"
On a regular day, Xavier gets around 100 requests from men and earns over $200. He doesn't have the time to accept every request, so he usually chooses the ones with "the most interesting stories". And some of these requests can get pretty crazy.
"Sometimes, someone will message and say, 'We've been going out for two years, I want to see if she cheated on me,' or, 'She's cheated on me before,'" Long told VICE News. "One dude hit me up like, 'Ayo, test my mom.' Some guy wanted me to test his sister because he was friends with her boyfriend. That's your own blood, and you want to test her?"
Long said that although most of the men offering to pay him to test their partners just want to make sure they are with the right girl, he is sure that some are just looking for a good-enough excuse to get out of a relationship, and his loyalty test is just the thing.
"Some dudes are thinking about asking her to marry him. Another one, they're thinking of asking her to move in or introducing her to their mom — stuff like that," Long said. "I feel like some people do it because they want their girlfriend to cheat. They want an easy way out."
So how do Xavier Long's loyalty tests work, exactly? Well, they are pretty straightforward. He just slides into his targets' DMs, then sparks up a conversation with the goal of getting their personal contact information. If they give him their number or Snapchat without their boyfriends' knowing about it, they fail the test.
Some girls never give in to his advances, some give him their phone number almost instantly, and others require some "work". When he's done, Xavier reports back to his clients with the results. Apart from the financial benefits, the 20-year-old feels that he is helping people out, although I'm sure a lot of people would disagree.
"I'm helping people, so I feel like it's a good thing in a way. Before the money, this is why I started doing this," Xavier Long said.