A 29-year-old love-struck man from Kolkata, India, recently made international headlines for his efforts to get in touch with a woman he exchanged glances with on a train. He made a short film that he then posted on YouTube, plastered several neighborhoods with around 4,000 posters, and has been wearing the exact same clothes he did when he saw her, in the hopes that she will see and recognize him.
Biswajit Podder, a government from Behala, claims to have "fallen in love" with a woman he only locked eyes with on a train ride home from work, on July 23rd. The girl and her parents boarded the same train and took the seats opposite Biswajit. The man instantly mesmerized by the girl's beauty, but she caught him looking at her and didn't appear to like it, so he didn't bother anymore on that train. But it just so happened that they both got off at the next station, boarded another train, and she and her parents once again took the seats opposite Biswajit.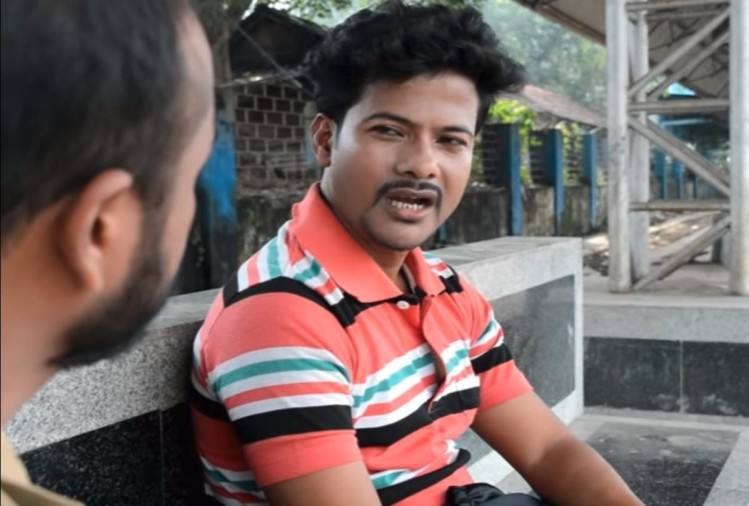 "This time we exchanged glances and I realised she, too, was looking at me," the 29-year-old man told Times of India. We spent the next two hours of the journey exchanging glances and, sometimes, smiles. I could make out from their conversation that they are Konnagar residents but also heard them mentioning Bally at times. As she was getting off at Konnagar, I gestured asking for her phone number. She, too, signaled that she wanted to speak but was scared of her parents. Then she tried to tell me her number, mouthing the digits, but I could not lip-read what she was saying."
That was the first and last time Biswajit Podder saw the young woman, but it was enough to make him believe in love at first sight. No matter how much he tried, he couldn't get her out of his mind, and has spent most of his free time since that fateful July day trying to find her. He has been getting off at the same train station he last saw the mystery woman, every day after work, and has been wearing the exact same clothes to make himself easier to recognize.
To increase his chances of finding the girl who stole his heart, Biswajit also shot a 7-minute short film starring him and a friend who plays the mystery girl. It tells the story of their meeting on the train, and ends with Podder at the station the woman got off at pleading with her to contact him if she happens to see it. The film was posted on YouTube and he checks the comment section regularly, hoping for a sign from the woman.
He also plastered neighborhoods covering a six kilometer stretch with custom-made posters featuring him dressed in the same clothes he had on the train on July 23rd, asking the mystery woman to contact him.
"My friends and family call me mad," Podder said. "I know what I have been doing is a bit crazy but I just can't get her out of my mind. I have no intention of insulting her or getting her into any sort of trouble. I am doing all this only so that she knows I am trying to find her and she can contact me if she wants."
While his actions are not illegal, as Biswajit Podder has not revealed the girl's identity – he doesn't know it anyway – or mentioned personal details that could make her uncomfortable, some people have commented that his tactics may actually keep the girl away, rather than make her want to get in touch. He does seem just a tad bit obsessed with someone he has yet to talk to…